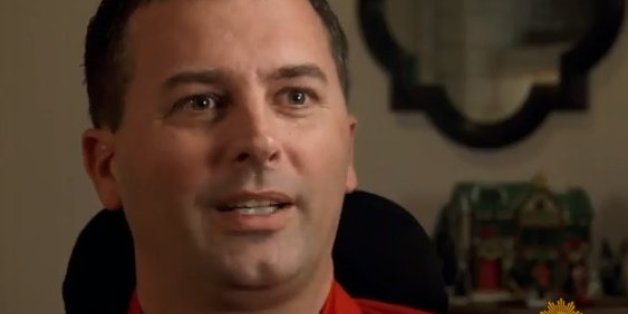 Chris Rosati had a dream.
The self-employed marketing consultant, diagnosed three years ago with amyotrophic lateral sclerosis, or ALS, dreamed that one day he would steal a Krispy Kreme truck and drive around Durham, N.C., handing out free donuts. He'd be like a modern day Robin Hood, spreading smiles and sugary goodness.
Rosati revealed his delicious, dastardly plan earlier this year while speaking at Durham Academy, his high school alma mater, the News Observer reports. The degenerative and ultimately deadly disorder had slowed him down, he told the students, but life is too short to not steal a Krispy Kreme truck.
But as the 42-year-old Rosati's strength dwindled, so did his heist hopes. So the marketing professional hedged his bets, and started a Facebook page.

"I want to steal a Krispy Kreme truck," Rosati wrote on the page. "Actually I'm too weak now. But if this page gets enough love and attention, I'm hoping KK will lend me a driver and a loaded truck so I can ride around giving away donuts and making people smile!"
His ALS made him "more open than ever to chasing my dreams ... even odd ones like this," Rosatti explained via Facebook. "I hope this page will help convince KK to lend me a driver and 1k donuts. Then we'll video the journey as we cruise the Bull City giving away donuts, making people smile and showing folks what a random act of kindness and a KK donut can do."
Amazingly, the post caught Krispy Kreme's attention. In fact, representatives liked it so much they sent their Krispy Kreme Cruiser to help Rosatti's dream become a reality. He spent a day handing out donuts to random passersby in his neighborhood.
CBS also learned of Rosatti's unique plan and sat down with him and his family. When asked whether he was ever worried he might get into trouble with the law, Rosatti laughed.
"One of the blessings of ALS is -- what are they going to do?" Rosatti told CBS.
BEFORE YOU GO
PHOTO GALLERY
Badass Heroes