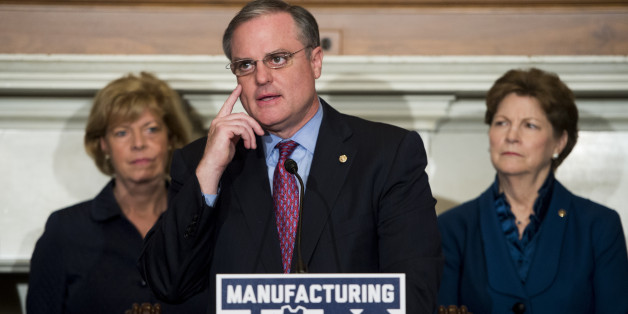 Though Election Day isn't until Nov. 4, this year's most competitive Senate races are already starting to heat up.
In the battle for control of the Senate, Republicans have to defend 14 seats and pick up another six, while Democrats have to defend 21 seats. More than half of the GOP senators up for reelection face tea party challengers.
A Pew Research Center survey found that more Americans blame Republicans for the government shutdown than point the finger at the Obama administration. But the botched rollout of the Affordable Care Act provides conservative political groups with Democratic targets in a number of states.
HuffPost Pollster, which aggregates public polling data, shows that only 11 percent of Americans approve of the job Congress is doing, while 65 percent think the country is going down the wrong track.
These five tough Senate contests may demonstrate which party voters blame more.
Arkansas: Sen. Mark Pryor may be the most vulnerable Senate Democrat in the country. The senator has distanced himself from President Barack Obama, saying the president "doesn't connect well" with Arkansas voters. Though Pryor is on the record opposing expanded background checks for gun purchases and same-sex marriage, he has recently come out in support of an increase in his state's minimum wage. He is trailing Rep. Tom Cotton, a first-term House Republican, in recent polls.
North Carolina: Democratic incumbent Sen. Kay Hagan is up against a barrage of recent ads by the Koch brothers-backed conservative group Americans for Prosperity that seek to tie her to the Affordable Care Act's flawed implementation. She could benefit from a contested GOP primary between state House Speaker Thom Tillis and tea party candidate Greg Brannon. Hagan's fate may also reveal whether the backlash provoked by the North Carolina legislature's rightward tilt endures a year after the progressive "Moral Monday" protests began.
Kentucky: Senate Minority Leader Mitch McConnell (R) must finesse his way around a primary challenge from Louisville businessman Matt Bevin and a formidable general election opponent in Kentucky Secretary of State Alison Lundergan Grimes (D). The Affordable Care Act was embraced by Kentuckians, so the health care exchange's relatively successful rollout in the state will provide nuance to campaign debates over its impact on voters' lives. McConnell and Lundergan Grimes are in a dead heat in recent polls.
Georgia: Democrat and former nonprofit CEO Michelle Nunn, who is running for the Senate seat once occupied by her father, Sam Nunn (D) -- and now being vacated by Sen. Saxby Chambliss (R) -- has posted impressive fundraising numbers. A packed field of Republican contenders will face each other in seven debates over the next four months -- an opposition researcher's dream.
Louisiana: Three-term incumbent Sen. Mary Landrieu (D) has never won a Senate general election with more than 52 percent of the vote. She has attempted to distance herself from Obama and the Affordable Care Act by running a TV ad highlighting her bill to let people keep their canceled insurance plans. Landrieu has come under fire from Republicans who are seeking to tie her to the real estate deals her husband brokered for lobbyists. The senator will take over the powerful Energy and Natural Resources Committee if the current chair, Max Baucus, is confirmed as the U.S. ambassador to China, which would help with her visibility in Louisiana. She is currently leading Rep. Bill Cassidy (R) in polling.
BEFORE YOU GO
PHOTO GALLERY
Senate Seats Up For Grabs In 2014