Jennifer Lawrence looks sexier than ever as one of six stars featured on the February covers of W magazine.
The 23-year-old actress rocks a Dolce & Gabbana bra top with matching high-waisted briefs for the magazine's "Movie" issue. Lawrence, now a regular on the award show circuit and nominated for a Golden Globe for Best Supporting Actress for her role in "American Hustle," explained how she tripped up the stairs before accepting the Academy Award for Best Actress last year.
"I was at the Oscars, waiting to hear if my name was called, and I kept thinking, 'Cakewalk, cakewalk, cakewalk,'" she explained to W. "I thought, 'Why is cakewalk stuck in my head?' And then, as I started to walk up the stairs and the fabric from my dress tucked under my feet, I realized my stylist had told me, 'Kick, walk, kick, walk.'"
Lawrence adds, "You are supposed to kick the dress out while you walk, and I totally forgot because I was thinking about cake! And that's why I fell."
Given that all Lawrence could talk about on the red carpet prior to the Oscars last year was how she was "starving," and all she could think about was "getting fries," the reason for why she actually fell isn't surprising at all.
Pick up a copy of Lawrence's W cover, or one of the five other covers featuring Amy Adams, Oprah Winfrey, Cate Blanchett, Lupita Nyong'o and Matthew McConaughey, on sale at newsstands now.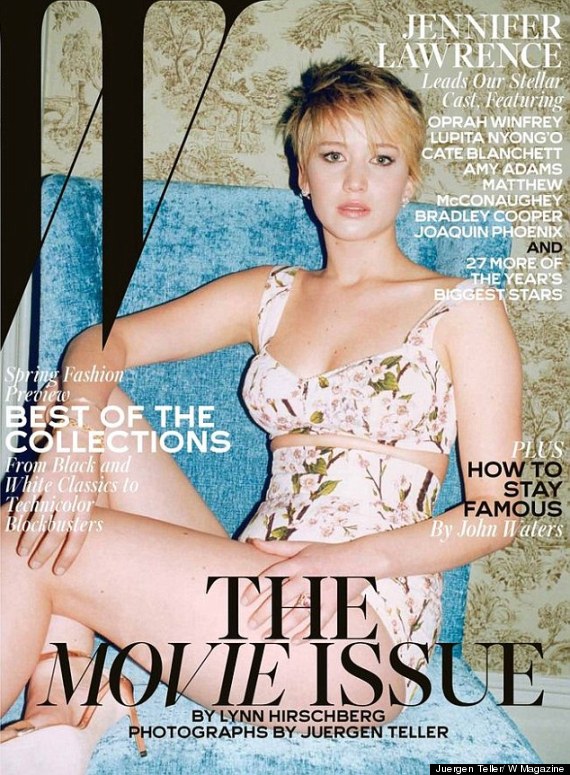 BEFORE YOU GO
PHOTO GALLERY
Jennifer Lawrence