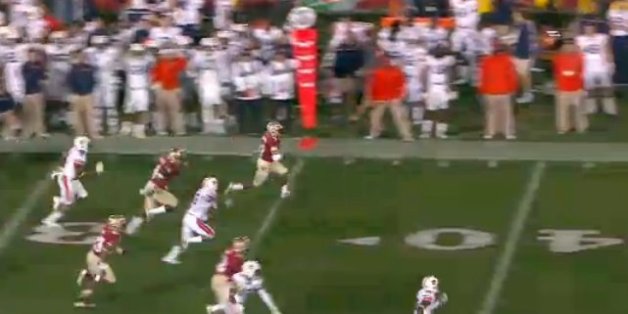 Levonte "Kermit" Whitfield is described as "One of the fastest high school players in the nation" on his player profile page at Seminoles.com. They might need to update that to "One of the fastest college football players in the nation" after his game-changing performance for Florida State in the BCS National Championship Game.
With No. 2 Auburn have just extended its lead over No. 1 Florida State to 24-20 with less than five minutes remaining in the game, the diminutive, true freshman wide receiver returned a kickoff 100 yards for a lead-changing, momentum-altering touchdown. Whitfield's untouched, full-field dash was the third 100-yard kickoff return in any BCS bowl game and gave Florida State its first lead since early in the first quarter.
WATCH: Kermit Whitfield's 100-Yard Kickoff Return Touchdown
The remarkable special teams play sparked a wild final few minutes to the national title tilt that included two more scores. Auburn would briefly regain the lead with a subsequent touchdown of their own but Florida State would not be denied the national championship as quarterback Jameis Winston tossed a game-winning touchdown pass with just 13 seconds remaining.
"Kermit is a big‑time player," Florida State coach Jimbo Fisher raved after his team's thrilling 34-30 triumph. "He's a 10.1 in the 100 meters, third‑fastest 100 meters in high school history. But this guy is going to be a big‑time player. He has great hips, great acceleration, he's learning our offense and getting the touches, but in the open field he's as dynamic as anybody in America. He's as good as anybody I've ever been around and to do it at that stage ‑‑ our team blocked very well ‑‑ but he has that finishing speed and I think the sky's the limit for that guy in his whole career here at Florida State."
BEFORE YOU GO
PHOTO GALLERY
PHOTOS: Auburn vs. Florida State