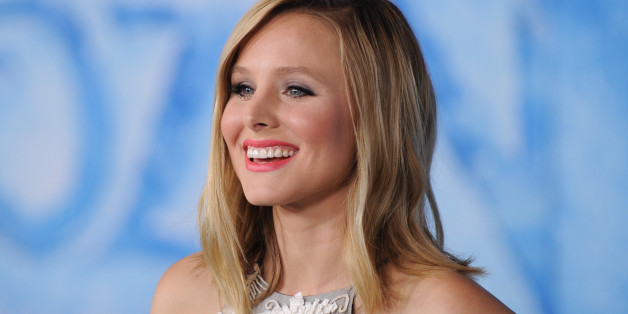 From Kristen Bell's proposal to now–husband Dax Shepard via Twitter to their $142 wedding, Bell and Shepard are your favorite celebrity couple to follow. Now that they have baby Lincoln in the mix, they can't be more adorably hilarious.
Bell sat down with Chelsea Handler on E!'s "Chelsea Lately" to talk about the important things in life: skiing and sex scenes. More importantly, the actress opened up about how she hopes to expose her daughter, 10–month–old Lincoln, to some of the more explicit scenes she has filmed. "She can watch whatever she wants," the "House of Lies" star said.
"People ask, 'Oh, well you've done some sexy material. Do you not want her to see that?'" she said. "And I'm like, 'My guess is if she's anything like the other 5 billion people on the planet, she's gonna grow up and enjoy sex, so I'm not gonna be shocked by that.'"
The actress elaborated on how she and Shepard don't plan to censor material from Lincoln. In fact, they'd like her to see the work that her parents have done. For the famous couple, keeping mature subjects hidden from their child seems futile.
"I just think you're setting yourself up for disaster if you try to keep them little. She's gonna grow up. She has -- newsflash! -- a vagina, and she's gonna figure it out one day, and more power to her," Bell told Handler.
The couple seems to be approaching parenthood with their senses of humor fully intact. Not too difficult for parents who announced their child's arrival through less–than–tame tweets:
Lincoln Bell Shepard is here. She has mom's beauty and dad's obsession with breasts. Hooray!!!

— dax shepard (@daxshepard1) March 28, 2013
My new roomate poops her pants and doesn't pay rent...basically @daxshepard1 pre-sobriety :) welcome baby Lincoln xo

— Kristen Bell (@IMKristenBell) March 28, 2013
BEFORE YOU GO
PHOTO GALLERY
Stars who've had children before getting married