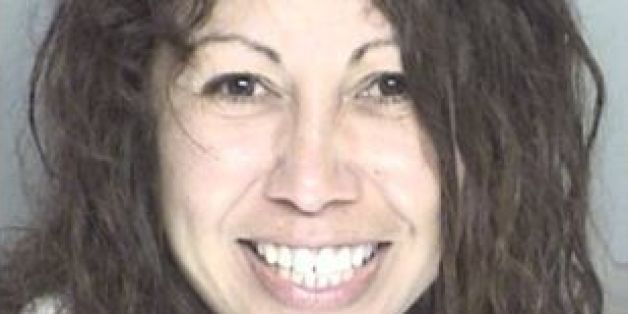 There's nothing to smile about.
Nellie Marie Palacios burglarized her ex-boyfriend's home on Thursday, then choked his cat and stabbed it to death with a large kitchen knife, police say. She was grinning ear-to-ear when police took her mugshot.
The 43-year-old Santa Maria, Calif., woman allegedly entered the victim's home after 3 p.m. and began removing paintings from the walls, according to the Santa Maria Times. She brought her current boyfriend with her, but he called police out of apparent concern.
By the time officers arrived, the victim's cat was in an igloo-style doghouse outside the home, riddled with fatal stab wounds. The knife was found under the doghouse, covered in blood.
Palacios told police that the cat attacked her and she acted in self defense, but investigators say she choked the pet before stabbing it, according to Cal-Coast News.
Her current boyfriend told police he saw her kill the cat and remove items from the home. He also claimed that Palacios told him they were going to her cousin's house, but they showed up at her ex's.
She was booked on suspicion of burglary and animal cruelty after she was treated for cat scratches.