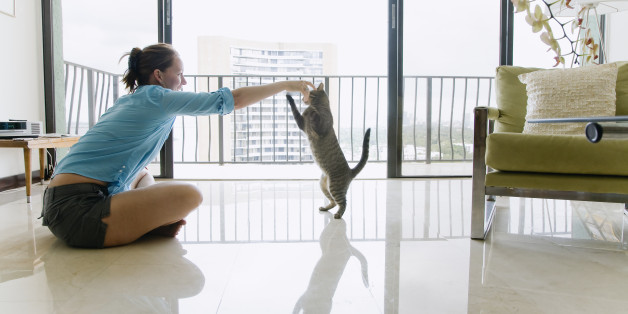 Most of us use our smartphones anywhere and everywhere. Walking down the street, in the bathroom, during sex and even at church, we find ourselves glued to that little pocket-sized screen. Many of us -- including nearly half of women who would rather go without sex for a month than without smartphones -- go to great lengths to avoid being separated from our devices.
Here's further evidence of our digital devotion: One in five pet owners would even sacrifice a 30-day supply of cuddles for the sake of their smartphone, according to a recent HuffPost/YouGov poll.
When asked if they would rather give up their phone or time with their pet for a month, 20 percent of respondents said they'd give up time playing with their pet, while 67 percent of smartphone users said they'd rather give up their devices and 13 percent were unsure. Here's how it breaks down:
The HuffPost/YouGov poll was conducted Dec. 19-20 among 1,000 U.S. adults using a sample selected from YouGov's opt-in online panel to match the demographics and other characteristics of the adult U.S. population. Factors considered include age, race, gender, education, employment, income, marital status, number of children, voter registration, time and location of Internet access, interest in politics, religion and church attendance.
The Huffington Post has teamed up with YouGov to conduct daily opinion polls. You can learn more about this project and take part in YouGov's nationally representative opinion polling.
Arianna Huffington and Mika Brzezinski are taking The Third Metric on a 3-city tour: NY, DC & LA. Tickets are on sale now at thirdmetric.com.