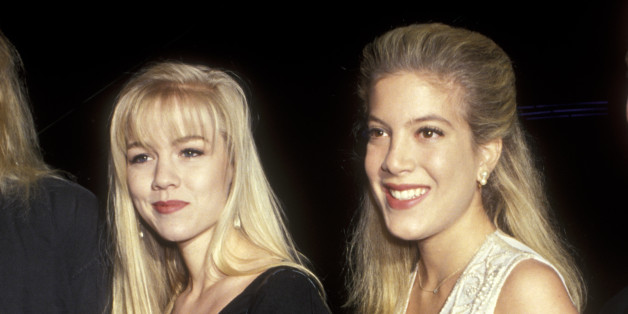 Looks like Donna Martin and Kelly Taylor are coming back to the small screen! Tori Spelling and Jennie Garth, who co-starred in the '90s hit "Beverly Hills, 90210," are set to star in a half-hour sitcom, "Mystery Girls," on ABC Family.
Spelling and Garth star as former mystery TV show hosts who are convinced to get back in the crime fighting biz when a huge fan witnesses a crime. The stars will also serve as executive producers with Maggie Malina.
This isn't Spelling and Garth's first on-screen reunion since their days on "Beverly Hills, 90210." Garth revived Kelly Taylor in the CW's remake of the classic show, "90210," and Spelling made a few cameo appearances as Donna Martin.
Production on "Mystery Girls" is set to start in early 2014 and the show is expected to debut later in the year. The official description from ABC Family states:
Charlie Contour (Garth) is a suburban housewife and mother, while Holly Hamilton (Spelling) longs for her glory days in the 90's when she was on television. Both of their lives are disrupted when Nick (Pinzon), a witness to a crime and a Mystery Girls fanatic, will only speak to the infamous duo, and the former friends must reunite and put their TV crime-solving skills to the test.
Will you watch?
BEFORE YOU GO
PHOTO GALLERY
When TV Stars Reunite!