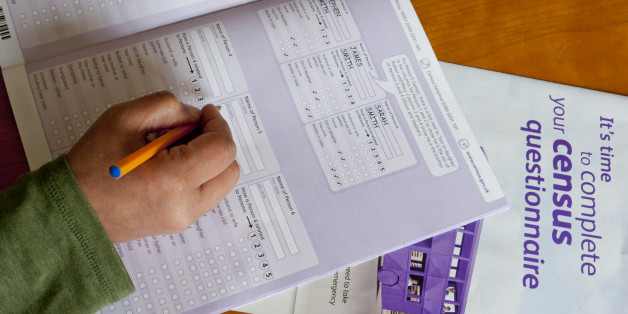 The Census Bureau is polling about whether it should make greater use of administrative and commercial data. Gallup finds more independents than ever, but they're less independent than you think. And Frank Luntz sells! This is HuffPollster for Wednesday, January 8, 2014.
CENSUS BUREAU POLLS ON USING ADMINISTRATIVE AND 'AGGREGATOR' DATA The Cook Political Report's Elizabeth Wilner: "One of our editors recently answered her landline to find Gallup on the other end, polling her on behalf of the Census Bureau about whether the 2020 Census should use datasets curated by private vendors instead of forms or interviews to gather people's personal information. Jennifer Duffy says the December 19 interview included several questions covering whether data aggregators should be used to collect people's names, addresses, phone numbers, email addresses and occupancy." The term "data aggregator" refers to commercial data broker companies like Acxiom and Experian, that compile detailed databases on U.S. consumers. Wilner continues: "According to Burton Reist, chief of planning and research for the 2020 Census, Gallup has been polling on the Bureau's behalf since February 2012. Initial questions tested people's attitudes about, and trust in federal statistics and statistics-gathering agencies, Reist said; the questions Duffy answered about the possible use of third-party data are a 'fairly recent' addition." [Cook Political]
So how might the Decennial Census use 'private data'? - Wilner: "Reist emphasized that no decisions have been made about whether or how third-party data would be used in 2020. Asked to provide a hypothetical possibility, he offered, 'One way we might use third-party data is by gathering information to help us contact a household.' In other words, the Bureau might use third-party data to help the Census confirm the quality of its address list and facilitate follow-up...Developing that list is costly, Reist says, but decade to decade, most neighborhoods don't change much at all. Third-party data might help the Bureau target any necessary address-list development to just the geographic areas that are experiencing an unusual amount of change. The Census is further along in researching how they might use data already provided by the public to other government agencies such as the Social Security Administration and the Department of Health and Human Services. Called 'administrative records,' their use in strengthening the accuracy of the address list also would be a first. 'We've never used administrative records to actually enumerate a household before,' Reist said." [ibid]
AMERICA'S RECORD NUMBER OF INDEPENDENTS AREN'T AS INDEPENDENT AS YOU MIGHT THINK - HuffPollster: "Forty-two percent of Americans now say they're political independents, a record high for the last 25 years, according to Gallup. With 31 percent identifying as Democrats and 25 percent as Republicans, the shift is mainly at the expense of the GOP, which has dropped 9 points since the party's peak in 2004. The movement in party identification doesn't represent a seismic change in Americans' views, however, so much as an increased unwillingness to be tethered to either party, especially the GOP. When Gallup asked those independents whether they leaned toward one side, just a fraction -- about 10 percent of Americans -- described themselves as purely independent. The rest leaned equally toward one party or the other, with 16 percent expressing more of an affinity for the Democrats, and 16 percent for the GOP. The difference between partisan-leaning independents and their brethren among the party faithful tends to blur at the ballot box. In 2008, 90 percent of Democratic leaners went to now-President Barack Obama, and about 80 percent of Republican leaners to Sen. John McCain (R-Ariz.), according to exit polls." [HuffPost]
John Sides has more - "A second key point: In many other respects, voters are not "declaring independence" from political parties. In fact, the American electorate is much more partisan than in the recent past. Consider these points: 1) The number of "pure" independents is declining. It was nearly twice as high in the early 1970s as now. 2) Partisan loyalty in presidential and congressional election is on the rise. As a consequence, split-ticket voting is in decline. 3) Partisanship and ideology are much more aligned than they used to be — a trend that only helps to strengthen partisanship and party loyalty. Partisans like each other a lot less. 4) Partisans report less favorable feelings toward the opposite party and express more distress at the thought of their son or daughter marrying someone of the opposite party." [WaPost's Monkey Cage]
QUINNIPIAC FINDS OBAMA'S NUMBERS STABILIZING - Quinnipiac: "After a plunge which saw his job approval rating drop from 46 - 48 percent in August to a negative 38 - 57 percent December 10, his all-time lowest score, President Barack Obama has stopped the drop, but not started the rebound, with a negative 41 - 53 percent job approval in a Quinnipiac University national poll released today….The 2014 congressional races are tied as 38 percent of American voters say they would back a Republican candidate, while 37 percent would back a Democrat….Voters also support 58 - 37 percent extending unemployment benefits for three months. Support is 83 - 13 percent among Democrats and 54 - 41 percent among independent voters, with Republicans opposed 54 - 42 percent." [Quinnipiac]
FOLLOW-UP 1: FRANK LUNTZ SELLS TO MADISON AVENUE - Stuart Elliott: "Frank Luntz, the Republican media strategist, consultant and pollster...is joining forces with Madison Avenue. His company, Luntz Global, which works for corporate clients as well as candidates, is being acquired. Mr. Luntz is selling a majority stake in Luntz Global, based in Manassas, Va., to MDC Partners, an agency holding group that owns more than 50 agencies. Mr. Luntz...iis being named to a new post at MDC, chief language strategist in the company's strategic resources group. Financial terms of the deal are not being disclosed." [NYTimes]
FOLLOW-UP 2: RASMUSSEN'S 'ONLINE SURVEY TOOL' - Yesterday's HuffPollster reported that automated pollster PPP will begin conducting 20 percent of their interviews online using an opt-in panel in order to better represent "cell phone only" households (federal law bars automated calls to mobile phones). We noted that PPP's approach appears to be similar to that already in use by automated pollster Rasmussen Reports. Since Rasmussen has previously disclosed very little information about the "online survey tool" they say the use "to interview randomly selected participants from a demographically diverse panel," HuffPollster asked the company to provide more details. [Rasmussen Reports]
Rasmussen responds - General Manager Beth Chunn, via email: "Currently, 10-20% of our interviews for national and statewide polling are conducted online and this sample is randomly sent to addresses from the eRewards/ResearchNow panel. However, given the changing landscape of public opinion polling we are exploring the best way to use a suite of those digital applications to bring opinions together in a measurable and accurate way.
"In earlier decades the landline provided a uniform sampling mechanism. It was largely free of bias because almost every home had one, and, due to societal norms and particulars of the technology (lack of answering machines and caller id for many decades), people could be expected to answer calls and to answer survey questions. Things have changed radically. Over a third of households don't have landlines. It is now customary to be able to recognize unknown callers. People are much more aware of privacy issues and less likely to answer questions from a stranger just because it's polite.
"Further, the changes have not resulted in the replacement of one uniform access method (landlines) with another. There is no single new technological mechanism for collecting sample data. Instead, the opinions of regular consumers are potentially accessible through an extremely diverse set of digital applications. The new position we have open is to assist us in addressing this."
And they're looking for help - The "new position" that Chunn refers to is an opening for a "Senior Data Scientist/Statistician" posted in late December: "Innovative thinking about the future of polling, along with the quantitative and computational abilities to put your ideas into practice are definite must-haves. We aim to broaden our polling reach over the next years, to introduce a greater amount of data from a wide range of nontraditional polling sources, and to carefully calibrate and evaluate our efforts as we proceed." [Rasmussen Reports]
HUFFPOLLSTER VIA EMAIL! - You can receive this daily update every weekday via email! Just enter your email address in the box on the upper right corner of this page, and click "sign up." That's all there is to it (and you can unsubscribe anytime).
WEDNESDAY'S 'OUTLIERS' - Links to the best of news at the intersection of polling, politics and political data that we missed during our holiday break (starting with a few new items from today:
-CNN finds soaring support for legalizing marijuana. [CNN]
-The University of Michigan finds most of the Muslim world believes women should cover their hair, but not necessarily their faces. [Pew Research]
-Only 24 percent of Americans say they would vote to reelect the member of Congress who represents their district. [YouGov]
-Nolan McCarthy reviews what we know and what we don't know about our polarized politics. [WaPost's Monkey Cage]
-Dave Karpf says Frank Luntz "is a lot like the old school scouts in Moneyball." [Shouting Loudly]
-Shocker: People exercise less often than they say they do. [WSJ via @MarkMellman]
-"Study: This Descended From Wolves" [The Onion]
CORRECTION: An earlier version of this newsletter incorrectly attributed the study on female dress in the Muslim world.