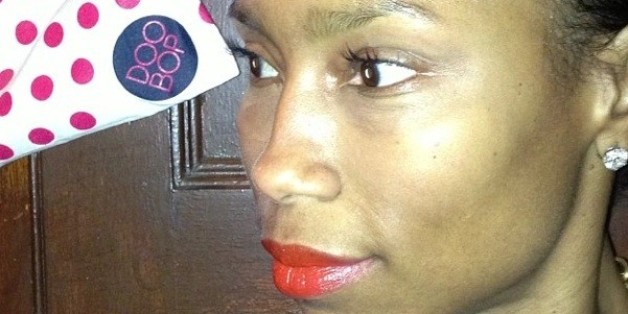 We just love go-getter gals like Jodie Patterson, who see an issue and tackle it with gusto, grace and -- in this case --plenty of lip gloss!
Jodie is the co-founder of the new online beauty shopping destination DooBop.com, which is the resounding answer to the lack of products readily available for multicultural women (read: brown skinned and curly/kinky haired chicks). Less than two months into it's launch the site is filled with an expertly curated collection of products from widely popular prestige companies, like Iman and Fashion Fashion, alongside a few little-known gems exclusive to the site, like Paris-based Nuhanciam and Ethnicia.
The awesome handpicked products and the site's sleek look are clear nods to Jodie's fashion PR background and her co-founder Benjamin Bernet's tenure as a marketing executive at L'Oreal. Their combined effort to inject some much needed diversity into the beauty market is much needed and definitely appreciated, considering black women spend $7.5 billion annually on beauty products and will spend 80 percent more on cosmetics and twice as much on skin care products than their white counterparts.
With that said, we caught up with Jodie to get the scoop on DooBop.com and its "beautifully diverse" mission. Check it out!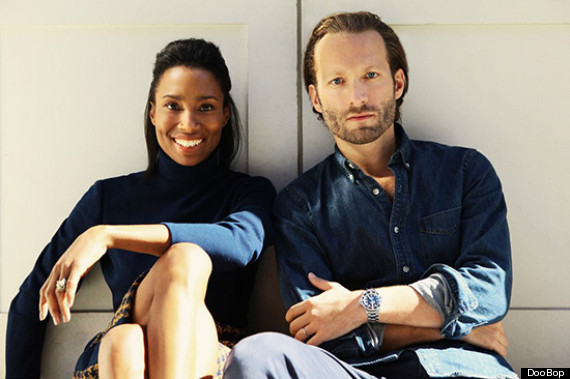 What inspired you to create DooBop?
The streets of New York were our inspiration. We rode our subways and walked our streets to witness beauty in 'real time' - on real women. This city is more diverse and brown than anything else…soon the entire world will be as well. So we decided that the beauty industry needed to catch up to real life. Brands needed to be tilted towards a brown woman. So we shifted and leaned towards colors, ingredients and formulas that are relevant to this particular woman. It wasn't a big political statement – it was more about being part of the zeitgeist of the times.
Is there a story behind the adorable name "DooBop"?
I was feeling playful and wanted to have something that evoked curiosity as well as action. Doobop rolls off the tongue and hopefully it imprints on you!
What makes DooBop different than other beauty supply sites?
Doobop curates and creates experiences you'll appreciate on every level. We start off by offering free shipping and free samples with every order! Then we make sure we offer foreign products that you'll only find with us. We're more excited to offer the never-before-heard-of gem from abroad than the 'market leader' in the States. We're about disrupting what we call a 'sleepy ethnic market' and bringing innovation and curation to a woman who is ready for something new. Our site has prestige and niche product from all over the world that allows the customer to explore beyond the confines of the proverbial 'ethnic isle'. Plus we really care about women, all women. $1 from every sale goes to underserved and at risk teens through a New York-based organization we support called, Community of Unity. We work with the young women in the organization on many levels but I'm most excited to start talking to them about the business of beauty. There could be a collaborative project down the line!
Do you think DooBop will inspire more beauty sites and companies to take women of color into consideration?
Yes! We're hopefully the first of many to edit for diverse women of color. And all praise be to the Internet and the power it gave to the woman! We now have a real voice that's being heard in the millions. Just look at some of these beauty gurus as an example -– individual concerns are now relevant. Companies are being forced to listen to what we have to say. Women of color in particular want innovation, more options, smarter product -– Doobop listened and responded -- other sites will soon follow. It's inevitable!
Tell us about your dashing French partner?
Ha! Yes, Benjamin Bernet is tres chic but he's more than just a "good look" for the company. As our CEO, Benjamin comes with a decade of experience from L'Oreal as a senior marketing executive and worked on killer brands such as Kiehl's and Giorgio Armani Beauty. He's tuned in to the mechanics of successful companies, the business of profitable start-ups and how Doobop in particular can make a big impact. And actually, he lives and breaths product -- he knows our line-up inside and out.
Any special features on the site that we'll love?
We want Doobop to be a standout site, so we worked with exceptional creative talent to produce exclusive How-To beauty tutorials. Our team of six beauty experts, (Keith Campbell & Liz Owusu in hair, Cynde Watson & Angie Parker in make up, Sherwin Parikh in dermatology, and Jeanette Bronee in wellness) can be seen in three-minute videos that address modern beauty dilemmas and in the form of questions and answers -– all on site! We also give our customers special insight into products by adding our own "Why We Adore It". This section gives it to you from our perspective and tells you exactly what (and why) we're obsessing over! Bonus: customers can also take a quick and easy beauty consultation that allows us to recommend cool and surprising product!
Who are your personal beauty inspirations?
For me, beauty is about moments and memories -- I usually look beyond the magazines for ideas. For my personal beauty inspiration, I look to women that have a lot to say -– because that always comes across in the way one looks! I'm always tuned into these women: Bethann Hardison, a champion for brown women in the fashion industry. Gaby Basora, a fashion designer who plays with romantic and nostalgic looks in a modern way. My daughter Georgia Becker, who launched a beauty web site & app for teens that allows young girls to explore beauty in a personal approach. And of course my mother, grandmother and great-grandmother. I have a wall in my house of all of the women in my family dating back to the turn of the century. When I get dressed in the morning, I always stop and see whom from the wall I can channel –- from the inside out! Beauty is always so personal.
We love your Georgia by Jodie Patterson beauty line -- does DooBop mean the end of those fabulous products?
Thank you! It's so good to hear that people like the Georgia line! It was inspired by my own children and the dedication I have to being a great woman + mom + entrepreneur + wife. It's a line that allows us all to be beautiful without sacrificing what's important to us. Everything I do with DooBop and beyond inspires me to do more with Georgia. Are you kidding me? Georgia is not ending; it's got a bright future ahead. New scents and ideas are in the works as we speak!
We also asked Jodie what her favorite 10 products on DooBop.com are and why...
PHOTO GALLERY
Jodie's Top 10 Beauty Picks