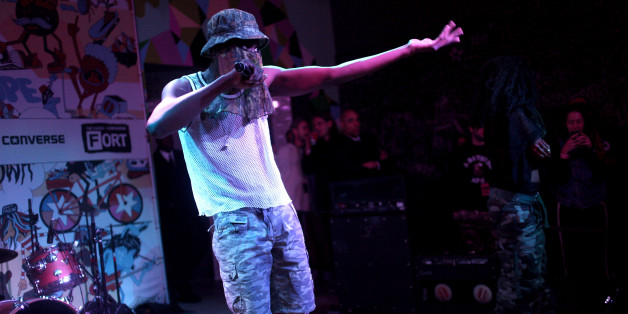 Openly gay rapper Le1f took to Twitter last night to address criticism over allegations of transphobia from the Twitterverse.
Le1f, who has been praised for his subversive work as a queer artist in a traditionally homophobic music genre, seems to have been set off by this tweet:
All I think when I hear of le1f is transphobia lmao

— a glitter gem. (@_Val10) January 8, 2014
This led him to unleash to following tirade on on the Twitterverse:
just because i don't want to be called trans by homophobic people doesn't make me transphobic.

— Le1f ☥ (@LE1FNY) January 8, 2014
i've seen some friends become themselves, & become more beautiful people through their transitions & i support them totally, as they do me.

— Le1f ☥ (@LE1FNY) January 8, 2014
let me set all y'all straight– 1. i'm not transphobic, 2. macklemore used to follow me on instagram & knows of me thru Das Racist ...

— Le1f ☥ (@LE1FNY) January 8, 2014
and 3. i'm not from Harlem or Brooklyn. i'm from midtown Manhattan. and yes, it's still the hood over here.

— Le1f ☥ (@LE1FNY) January 8, 2014
and yes i mention my friends, cuz you know what i value more than anyone's race, gender, or sexuality? my fuckin friendships. not ur tweets.

— Le1f ☥ (@LE1FNY) January 8, 2014
honestly, nothing sets me off like being called transphobic.
more so than being constantly gaybashed as 'trans'.
it's all very sad, tbh.

— Le1f ☥ (@LE1FNY) January 8, 2014
i should've stayed in the closet & just been actually sexist and homophobic. then i'd be on the radio, and you guys would sing along anyway.

— Le1f ☥ (@LE1FNY) January 8, 2014
This isn't the first time Le1f has taken to Twitter to sound off issues surrounding his role as a gay rapper in the LGBT community. In late August, he blasted Macklemore for allegedly ripping off his song "Wut."
Additionally, he called Macklemore out over the success of same-sex marriage anthem "Same Love," slamming him for benefiting, as a straight man, from a video focused on a gay relationship. "That time that straight white dude ripped off my song then made a video about gay interracial love and made a million dollars," Le1f wrote in a series of now-deleted tweets.
BEFORE YOU GO
PHOTO GALLERY
Hip Hop And Homosexuality