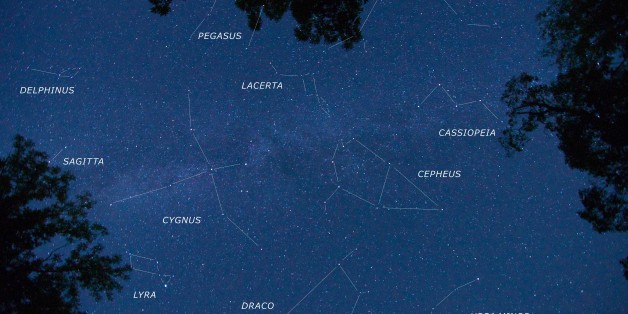 Is that the Big Dipper on Twitter?
Since Dec. 15, someone has been tweeting the constellations, or more specifically, digital recreations of star configurations.
Created by @artonaline, an anonymous Twitter account that tweets as ASCII art, the new project, called @C0NSTELLATl0NS, shares outlines of named constellations -- but without their names.
So, the catch is that each tweet is just a computerized version of the group of stars. No additional information is included.
Death and Taxes Magazine writes, "Sure, it's pointless, but so is pretty much everything else on Twitter." But we'd beg to differ. The frequent tweets could serve as a game for astronomy buffs who can identify constellations by their outline alone.
Given the number of official constellations -- a total of 88 have been named by astronomers -- the Twitter account may be short-lived. We say take advantage while you can!
Can you guess the constellations below?
(Tip: Head over to NASA's Star Finder for reference.)
⠀
⠀⠀⠀⠀⠀⠀⠀•
⠀⠀⠀⠀⠀⠀/⠀|
⠀⠀⠀⠀⠀•⠀⠀|
⠀⠀⠀⠀⠀⠀\⠀|
⠀⠀⠀⠀⠀⠀⠀•
⠀⠀⠀⠀⠀⠀/
⠀⠀⠀⠀⠀/
⠀⠀⠀⠀/
⠀⠀⠀•
⠀⠀⠀|
⠀⠀⠀|
⠀⠀⠀|
⠀⠀⠀•
⠀
⠀
⠀
⠀

— ⠀⠀⠀⠀⠀⠀⠀⠀⠀⠀⠀⠀⠀⠀⠀⠀⠀⠀⠀⠀ (@C0NSTELLATl0NS) January 8, 2014
⠀
⠀
•
|⠀⠀╲
|⠀⠀⠀⠀•
|⠀⠀╱
•
⠀
⠀
⠀
⠀
⠀
⠀

— ⠀⠀⠀⠀⠀⠀⠀⠀⠀⠀⠀⠀⠀⠀⠀⠀⠀⠀⠀⠀ (@C0NSTELLATl0NS) December 28, 2013
⠀
⠀
⠀
⠀⠀⠀⠀⠀ ⠀•⠀⠀⠀⠀⠀⠀ •
⠀⠀⠀⠀⠀⠀⠀⠀╲⠀⠀⠀/
⠀⠀⠀⠀⠀⠀⠀⠀⠀⠀ •
⠀⠀⠀⠀⠀⠀⠀⠀╱⠀⠀⠀╲
⠀⠀⠀⠀⠀⠀⠀•⠀⠀⠀⠀⠀⠀⠀╲
⠀⠀⠀⠀⠀⠀⠀⠀⠀⠀⠀⠀⠀⠀⠀⠀⠀•
⠀
⠀

— ⠀⠀⠀⠀⠀⠀⠀⠀⠀⠀⠀⠀⠀⠀⠀⠀⠀⠀⠀⠀ (@C0NSTELLATl0NS) December 27, 2013
BEFORE YOU GO
PHOTO GALLERY
Cool Stargazing Shots