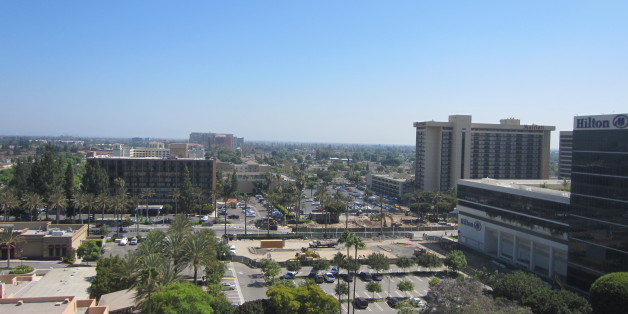 Anaheim voters will decide in November whether to keep an electoral system that many say has discriminated against the city's Latino majority.
A voting rights lawsuit brought by the American Civil Liberties Union on behalf of three plaintiffs nearly two years ago was settled on Tuesday, when Anaheim's City Council said it would put to a vote the question of whether to maintain or dismantle its at-large district system.
"This is about something very simple, letting the people vote," Anaheim Mayor Tom Tait said, according to the Los Angeles Times.
Under the at-large system, city council representatives are not required to live in the districts they represent. Some 54 percent of Anaheim residents are Latino, according to Reuters, but Hispanics rarely win election to city council. The council's composition is currently all white and disproportionately represents the affluent suburb of Anaheim Hills.
Critics of the system filed a lawsuit, saying at large districts diluted the Latino vote in violation of the California Voting Rights Act.
Anaheim's districting issue drew national attention in 2012, after police shot and killed Manuel Diaz, an unarmed 25-year-old who police suspected of dealing drugs. Diaz's death, followed days later by a second police killing, set off days of protests that highlighted the frayed relationship between the Latino community and the city's police that some viewed as symptomatic of a flawed electoral system.
Diaz's mother, Genevieve Huizar, tearfully addressed the City Council three weeks after the shooting, as the body considered whether to change the way it elected its members.
"It's time to make a change in Anaheim," Huizar said at the meeting, according to Fox News Latino. "Give the children a chance to grow in a healthy environment. I want the young children to have hope, I want them to have peace. I want us all to have justice."
But the Anaheim City Council voted 3-2 at the meeting in August of 2012 to maintain the at-large district system.
With Tuesday's settlement, voters will have two ballot initiatives to consider in November. One question will ask whether the four-person council should expand to six representatives -- the mayor currently casts the fifth vote -- and a second question will ask whether to switch from the at-large district system to a single-member district system.
The agreement prohibits the plaintiffs from suing the city if Anaheim voters reject the proposal to switch to a single-member district system.
BEFORE YOU GO
PHOTO GALLERY
Politicians Speaking Spanish