Timofey Mozgov and Kendrick Perkins may be off the hook. The victims of two of Blake Griffin's most iconic posterizations may have just been replaced in the sporting vernacular after what happened to Kris Humphries on Wednesday night at Staples Center.
Kris got Humphried by Blake Griffin dunk. #Clippers

— Michael Martinez (@ByMMartinez) January 9, 2014
OMG! Blake Griffin just humped on Humphries! Just nasty! #the one @FOXSportsLive #Clippers #NBA

— Kyle Montgomery (@the_realkylem) January 9, 2014
The Los Angeles Clippers' high-flying power forward posterized Humphries with a throw down -- because he actually threw the ball threw the rim -- reminiscent of the ones he visited upon Mozgov and Perkins. With the Clippers leading Humphries' Celtics 74-72 in the third quarter, Griffin took a bounce pass from Jamal Crawford and Mozgov'd Perk'd Humphried Humphries.
GIF: Kris Humphries Gets Humphried By Blake Griffn
(GIF via @SBNationGIF)
Clippers center DeAndre Jordan, no stranger to posterizations, was absolutely stunned by what had happened to Humphries. He just couldn't believe it. With jaw agape, Jordan raised both his hands to his head and walked away from the scene of the slam.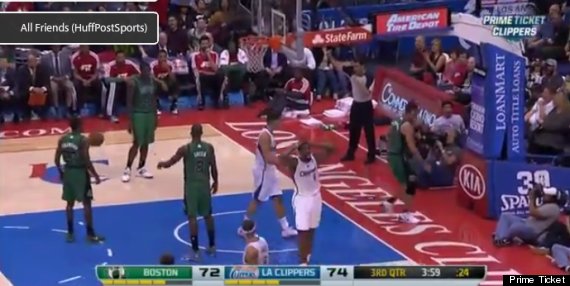 BEFORE YOU GO
PHOTO GALLERY
2013-14 NBA Highlights