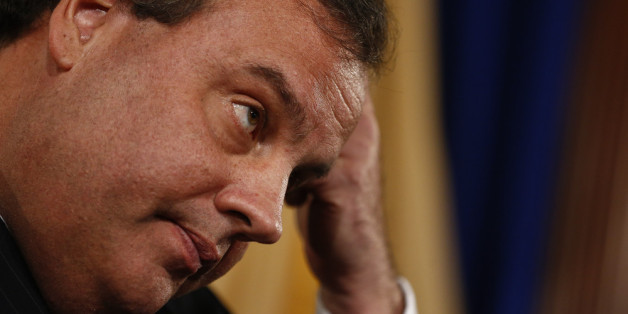 NEW YORK -- The meme of the moment is that "Bridgegate" has turned Gov. Chris Christie into the New Jersey equivalent of Richard Nixon.
On one level, it is an insult to Christie. After all, the Republican governor directly, repeatedly and vehemently professed his innocence in front of the whole world and the New Jersey press corps on Thursday.
Why would he lie openly when he knows that a pack of investigators with subpoena power and Democratic leanings are on his trail? By that logic, he must be telling the truth, and his ballsy decision to take it head on will vindicate him and might save his 2016 presidential chances, however damaged the goods.
Or he is trimming the truth, at least a little, doing what they called back in the Nixon days a "modified limited hangout"? If that is what he's up to, then the comparison to Nixon is an insult -- to Nixon.
The late president never would have done what Christie just did, which was to jettison top aides -- who almost certainly know enough to ruin him -- and then hold a two-hour press conference full of loose ends, contradictions and miles of rope for his enemies.
There was a certain fiendish grandeur to Nixon's nearly two-year-long, and initially successful, effort to stonewall the Watergate scandal. By the end, voters hated him with a Shakespearean fury. He left a desperate criminal, but of large dimension and consequence.
He made you want to cry for America. Christie makes you want to laugh at New Jersey.
In two hours of phony self-flagellation, mock remorse and ludicrous declarations of his lack of knowledge of the goings-on inside his own administration, Christie managed to shrink himself from a larger-than-life populist bully to a nattering pleader for mercy who had suddenly decided to play the earnest seeker of truth. He came off as a two-bit pol leading a gang that couldn't shoot straight on a fast ride across the George Washington Bridge to oblivion.
Maybe Christie did not know in advance that the bogus "traffic study" in Fort Lee was designed by his aides as a childish, but dangerous, act of retribution against the town's Democratic mayor. Former New Jersey Gov. Tom Kean, a Republican but no friend of the incumbent, vouched Thursday for Christie's basic honesty, though he questioned the culture of almost comically petty retribution that Christie had created in his camp.
But a long line of maliciously political moves undercuts the governor's claim that he was shocked and saddened by the tone of the "traffic study" emails among various officials and the actions they describe.
As Thursday's press conference wore on, Christie began to get tangled in his own contradictions. He managed to be both woebegone and a blowhard.
For all he knew, there might actually be a legitimate "traffic study," he said -- a notion completely rebutted by the emails he said had shocked him.
He knew nothing about the "screw Fort Lee" plan until Tuesday morning -- but he never wondered why two of his top allies in December quit the agency that ran the "traffic study," which by then was controversial and much covered in the local press.
He was sad but not angry -- though he might get angry at any moment, he said. But he didn't describe what else he thought he might learn that would then make him go off like a hand grenade, as he is wont to do.
He said that he wanted to join with various investigations (at last count, there were three: state, regional and federal) to find out the whole story. But he also said that he hadn't talked in recent days with the aide who he implied was most responsible for the Fort Lee caper.
They should all "answer questions" from investigators, he said. But everyone in the press room and watching on TV knew that didn't mean they should answer all questions about Christie's Trenton.
He uttered more lame, tweetable lines than a posse of "Daily Show" writers could concoct: that he wasn't a bully or a micro-manager, that he was blindsided, that he was humiliated, that he had stayed up late worrying, that he was "out of the traffic study business," that he had "absolutely nothing to hide," that of course as a former prosecutor he would never tamper with a witness.
Good to know.
Of course, he would never have held this press conference had not those emails been leaked.
Many Democrats in New Jersey -- and most of the national media, let's face it -- have been laying down for Christie for months, if not years. Now they've been embarrassed into outrage, or they're free to express the outrage they always had but had stifled out of fear. Now a U.S. attorney in New Jersey with close ties to a Democrat whom Christie's crew had humiliated (the late Sen. Frank Lautenberg) has launched a Bridgegate investigation that he had been leery of initiating.
Christie came this close to dodging the whole thing and taking the next step on the national stage unencumbered. He is the 2014 chair of the Republican Governors Association and was planning to install at the RGA one of the aides he just fired.
The administration of the former prosecutor is about to be infested with prosecutors.
So maybe Christie knew nothing. Maybe none of the aides he has dumped told him anything about Fort Lee or any other similar acts of retribution. Maybe Christie really does want to get to the bottom of everything and let the chips fall where they may. Maybe he really is deeply remorseful and genuinely ashamed of it all.
But even if he is no Nixon, there is one element of the Old Man's saga that Christie needs to study: It's not the crime, if there even was one; it's the cover-up that reaches all the way to the top of the chain.
If there is not a cover-up, Christie survives to run for president in 2016. But if there is, he'll be off the national stage faster than you can say, "I am not a crook."
BEFORE YOU GO
PHOTO GALLERY
Chris Christie Is Absolutely Shocked