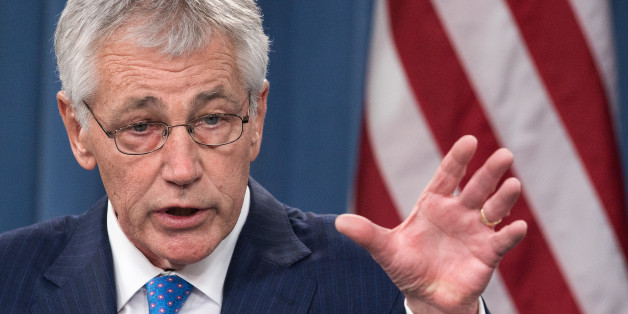 By David Alexander
CHEYENNE, Wyoming, Jan 9 (Reuters) - Defense Secretary Chuck Hagel praised troops in the U.S. nuclear missile force on Thursday for their professionalism in executing a difficult job, only to be reminded of morale issues facing the unit when two launch officers were suspended in a drug probe.
As Hagel visited F.E. Warren Air Force Base and toured a missile site in nearby Nebraska, two Air Force officers belonging to a missile launch crew at Malmstrom Air Force Base in Montana had their security clearances suspended after they were implicated in an illegal narcotics operation.
The force responsible for the 450 nuclear-armed intercontinental ballistic missiles at three U.S. bases has been troubled by morale issues, a factor acknowledged by Hagel during a two-day tour of nuclear arms installations in New Mexico and Wyoming.
Major General Michael Carey was fired as head of the ICBM force in October for getting drunk and carousing with Russian women while leading a government delegation to Moscow for talks on nuclear security.
Speaking at F.E. Warren after touring the missile site in Nebraska, Hagel did not refer to the suspended officers in Montana, and he only indirectly spoke to the morale issues in the force, praising the troops for their work and telling them the American people were counting on them.
"You have chosen a profession where there is no room for error. In what you do every day, there is no room for error, none, and you know that, the American people expect that. They have that confidence in you," Hagel said.
He commended the professionalism and commitment he saw during his visit to the base, saying "we all have a lot of responsibility and we all must deliver."
"How you do the job, really, is as important as the job itself because it sets a standard of expectations for yourselves and everybody around you. People pay attention to that," the defense secretary said.
Hagel said he had come away from his tour of the missile alert facility, which was across the border in his home state of Nebraska, with a renewed appreciation for the need to modernize the U.S. nuclear force in order to maintain a secure and reliable deterrent.
"It's clear we've got some work to do on modernization," he told the troops.
The United States is at the start of a multi-decade effort to upgrade its nuclear weapons complex, from modernizing 1970s-era bombs with modern electronic components to replacing aging nuclear ballistic missile submarines, long range bombers and intercontinental ballistic missiles.
Hagel said the Pentagon was nearing completion of a study to determine the ICBM that will be built to replace the current Minuteman III missile. A defense official said later the study would be completed this spring.
But arms control groups and others have raised concerns about the high cost of the elaborate plans and have questioned why taxpayers should rebuild much of the U.S. nuclear force at a time when the Obama administration is advocating cutting the size of the deployed arsenal by one third.
The Congressional Budget Office estimated it would cost $355 billion over a decade to carry out the administration's plans. The Center for Nonproliferation Studies at the Monterey Institute in California put the cost at $1 trillion over 30 years.
But Hagel assured airmen that Congress would proved the funding needed to modernize the force. (Reporting by David Alexander; Editing by Ken Wills)
BEFORE YOU GO
PHOTO GALLERY
Secretaries Of Defense