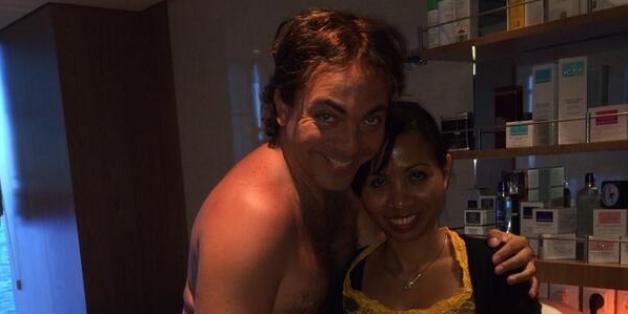 PHOTO GALLERY
Cristian Castro Memes
Everyone around the world is talking about the explicit and outrageous photo that Mexican singer, Cristian Castro, tweeted of himself in nothing but a banana hammock (which ironically enough is not "Azul," like his song) after receiving a massage.
The Latin crooner, son of singer Veronica Castro and comedian Manuel "El Loco" Valdes, captioned the photo "Masajito con saiote!!!" and posed nearly nude with his masseuse, we assume Saiote is her name.
Masajito con saiote!!! pic.twitter.com/WGTbNwJqfp

— Cristian (@CristianCastro) January 8, 2014
The picture, which shows a crazy-faced Castro intertwining fingers with Saiote, has made its rounds in the social media world in matters of seconds!
Many view this act as a sign of bravery, courage and liberty, others are just perplexed!
As Castro memes are being quickly created, we have nothing left to think but "WTF was Cristian Castro thinking?"
The photo, which has already received nearly 9k retweets and favorited by more than 4k people, follows the controversial and viral hunting photo that Mexican songstress Lucero posted earlier this week.
I guess this is Cristian Castro's way of showing his fans and the world "Lo mejor de mi."
Twitter reactions of Cristian Castro's obscure photo
Ya no exageren Lucero no mató a nadie, sólo le están checando el aceite a Cristian 😂😂😂😂 pic.twitter.com/kbcsdG1pxa

— Omar Chaparro (@OMARCHAPARRO) January 8, 2014
THIS pic of Cristian Castro will haunt you FOREVER! http://t.co/8wKcT786u0

— LatinGossip.com (@LatinGossip) January 8, 2014
Cristian Castro, un personaje de escándalos http://t.co/a7ZNtoqWdZ

— Pulso Online (@pulso_mx) January 8, 2014
No puedo esperar a llegar a casa y mostrarle a mis padres la foto de Cristian Castro entangado. Seguro todavía ni la vieron

— PrincesitaDelCante (@yonosoyconcheta) January 8, 2014
¿Cómo que la tanga de Cristian Castro no es azul?

— Diego Trerotola (@diegot_rror) January 8, 2014
"@Lavanderas: Tiembla Miley Cyrus, que ya llegó Cristian Castro ...

#MeEncueroComoCristian pic.twitter.com/rvHYgoziRi" LOL

— Sami (@wth_dude) January 8, 2014
Originally published on VOXXI as WTF was Cristian Castro thinking?