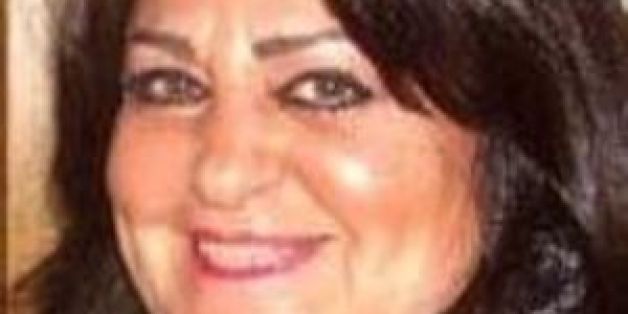 Four years ago, 55-year-old JoAnn Matouk Romain drowned herself in Lake St. Clair, according to police. But her daughter says it was no suicide.
Michelle Romain claims cops in the metropolitan Detroit communities of Grosse Pointe Farms and Grosse Pointe Woods botched the investigation into her mother's death. To this day, the investigation remains open but inactive, and Romain says she has spent nearly $200,000 of her own money to investigate the suspicious death of her mother. At a press conference Wednesday, Romain asked the Michigan State Police to reopen the case.
On Jan. 12, 2010, JoAnn Matouk Romain attended evening Mass at St. Paul Catholic Church. Seventy days later, her body was found floating in the Detroit River near Amherstburg, Ontario, more than 50 miles away from the church where she was last seen.
The investigation began in Grosse Pointe Farms, where it was suggested that Matouk Romain walked from her car in the parking lot of the church and waded into the Lake St. Clair, where she drowned. The investigation was then handed over to cops in neighboring Grosse Pointe Woods, where Matouk Romain lived.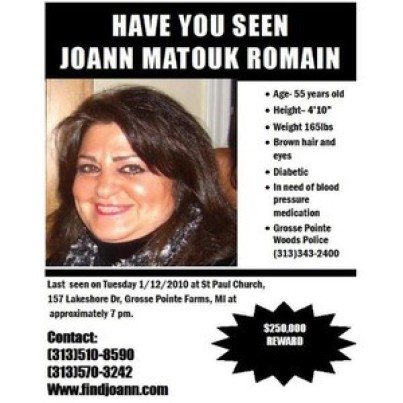 Flyer created to find JoAnn Matouk Romain, who disappeared after Mass at St. Paul Catholic Church in Grosse Pointe Farms, Mich. Her body was found 70 days later.
Unsatisfied with their conclusions, Michelle Romain hired attorneys who filed lawsuits to access to the records of her mother's case and a retired FBI investigator who took witness statements. She recently hired a private investigator, Scott Lewis, who appeared at the press conference Wednesday to make new details from Matouk Romain's case public.
After reviewing the evidence, Lewis, a former investigator for a local news station, said he believed foul play is involved in the middle-aged woman's death. He noted that Matouk Romain filled up the tank of the automobile she was driving on the way to Mass.
"How many people do you know who would do that before jumping into the lake?" Lewis asked rhetorically in a press release.
The pair have raised more questions. One of the lead recovery divers who searched for Matouk Romain's body claimed that there was no current during the time when she allegedly jumped in the water, and rejected that her body could have drifted more than 50 miles. Two witnesses also reported seeing a man wearing black near the water's edge during that time period.
According to the Detroit Free Press, Romain's new designer purse was found torn and ripped inside her Lexus SUV. Romain's upper left arm, where she carried her purse, showed bruising when her body was recovered. The daughter also pointed out that her mother's high-heeled boots were "immaculate" when they were found on her body, even though the police's theory would have required the 55-year-old woman to walk over metal rebar and into frigid waters.
Even the victim's SUV automobile has raised questions. Witnesses also claimed that Matouk Romain's SUV was moved in the church parking lot after the car's alarm went off. Romain said she was told by Grosse Pointe Farms Police that footprints led from her mother's SUV to the water's edge; however, she claims the police recanted this information after realizing the pavement was dry.
Daughter Michelle said she believes her mother was abducted outside the church, chloroformed and left in the water near Belle Isle in Detroit, the Detroit News reported.
Despite these questions, Grosse Pointe Farms Public Safety Lt. Rich Rosati told the Detroit Free Press that none of the information presented by Michelle Romain and Scott Lewis is persuasive. "From the police perspective, it does seem to us, by all the evidence we have seen and what our experience has taught us, it's a suicide," he said.
A Michigan State Police representative told the Detroit News that they are not currently involved in JoAnn Matouk Romain's case.
But her daughter says she won't give up until her mother's case is properly investigated.
"My mother was murdered, pure and simple, and I will never be at peace nor will other members of my family, until this matter is properly investigated and her killer or killers are brought to justice," Romain said in a release.
BEFORE YOU GO
PHOTO GALLERY
Police Brutality Incidents