Having had a kidney transplant in the past, Jim Gorbunow knows what it takes to find a match, which is why he's making his new search for an organ as public -- and eye-catching -- as possible.
Due to his Type 1 diabetes, the 43-year-old Minnesota native underwent a double transplant of his kidney and his pancreas back in 2000 -- the results of which only last for about 15 years. Knowing that he'll likely need a new organ soon, Gorbunow, his wife and his brother devised an unusual plan to get candidates to come forward, Good Morning America reported.
They built a 5-and-a-half-foot-tall "kidney" snow structure outside of Gorbunow's home. Next to the smiling snow organ stands a sign that reads, "KIDNEY WANTED," along with Gorbunow's contact information.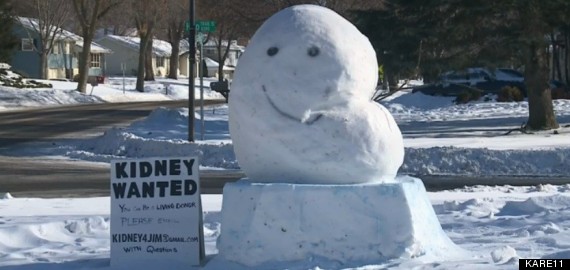 "I've never been that kind of guy who lets things go from bad to worse," he told KARE11. "[I] always try to keep a smile on [because] when I'm smiling it keeps everybody else smiling."
Since erecting the structure 12 days ago, they've been inundated with calls from people interested in helping. Gorbunow's wife answered about 30 emails in just one day, according to Good Morning America.
Patients in need of new organs have gotten creative in the past with their popular appeals to potential donors.
Determined to find a kidney for his wife of 57 years, William Larry Swilling spent more than a year marching up and down the streets of Anderson, S.C., wearing a sandwich board sign that read, "Need Kidney 4 Wife," CBS News first reported in 2012.
Swilling's wife, Jimmie Sue, was born with only one kidney and it started failing in December 2012.
As numerous outlets picked up the dutiful husband's mission, the couple's story went viral -- prompting willing donors to step forward.
Swilling's dream finally came true in September when his wife got a kidney transplant from a donor who had learned of the pair's plight from news reports, according to CNN.
Their success bodes well for the Gorbunows.
You could be the donor that saves Jim Gorbunow's life. Learn more about his campaign and how you can help here or reach out directly to the Gorbunows at KIDNEY4JIM@gmail.com
BEFORE YOU GO
PHOTO GALLERY
Inspiring Organ Donor Stories