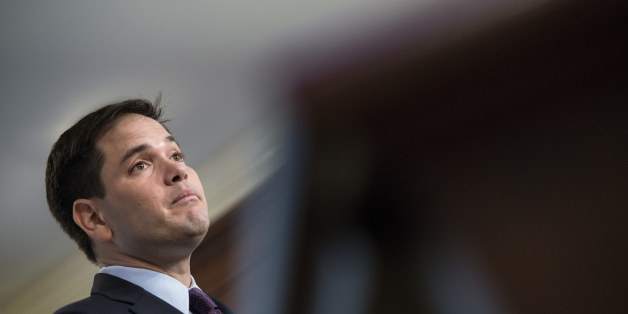 Marco Rubio just made a pretty great argument for gay marriage, though he may not realize it.
The Republican senator from Florida on Wednesday made a pitch for ending poverty using conservative methods -- part of a broader Republican response to a new focus by Democrats on fighting inequality and poverty.
"The greatest tool to lift children and families from poverty is one that decreases the probability of child poverty by 82 percent," Rubio said. "But it isn't a government program. It's called marriage."
This point is nothing new. Conservatives are often quick to blame poverty at least in part on the "collapse of marriage" (an argument that's been debated by recent research).
It's not clear how, exactly, marriage could be used to fight poverty. But if he's right, then his argument could easily be used to support same-sex marriage, too.
Giving all people the right to marry, regardless of sexual orientation, could be a big boon to the economy.
On a national level, marriage equality has the potential to help curb the federal deficit, in part by raising tax revenues. That would mean more money to help the poor. Gay marriage could also generate millions for local governments in marriage-license fees and an increase in wedding spending.
And, of course, marriage equality would put gay couples on an equal playing field with straight couples when it comes to personal finances. In states where gay marriage is legal, gay couples can file joint tax returns, qualify for their spouse's health insurance and get a number of other tax breaks that apply to married couples.
These perks are some of the reasons why past research has show married couples tend to be better-off financially.
Gay marriage isn't legal in 33 states, including Rubio's Florida. Politicians might want to consider marriage equality if they are serious about eradicating poverty.
BEFORE YOU GO
PHOTO GALLERY
25 LGBT-Friendly Products & Companies Targeted By Boycotters