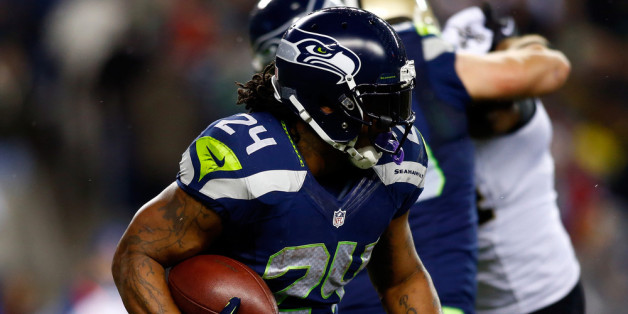 "Beast" is no longer just a mode that Seahawks running back Marshawn Lynch goes into when he plows through opposing defenses. It's now a burger that will be served at CenturyLink Field will be selling during Seattle's NFC Divisional playoff game against New Orleans on Saturday.
It's called the "The Beast" and of course, it comes with Skittles on the side (Lynch's favorite candy).
The "Beast Mode" burger the @Seahawks are offering Saturday in honor of @MoneyLynch is AWESOME: pic.twitter.com/5czM1c4q1p

— Claire Atkins (@claire_atkins) January 7, 2014
Chefs at food service provider Delaware North teamed up with CenturyLink Field to honor the Seahawks star and his nickname "Beast Mode," reported Will Brinson of CBSSports.com. The sandwich includes two hamburger patties, ham, two pieces of bacon, cheddar cheese, onion rings, lettuce, tomato and red onion. The burger will cost $15, according to For The Win.
If Lynch scores a touchdown, those packs of Skittles might end up on the field. To whet your appetite for the the Seahawks' upcoming home game, here's the touchdown Lynch scored the last time Seattle hosted New Orleans in a playoff game.
BEFORE YOU GO
PHOTO GALLERY
Best 2013 Sports Photos