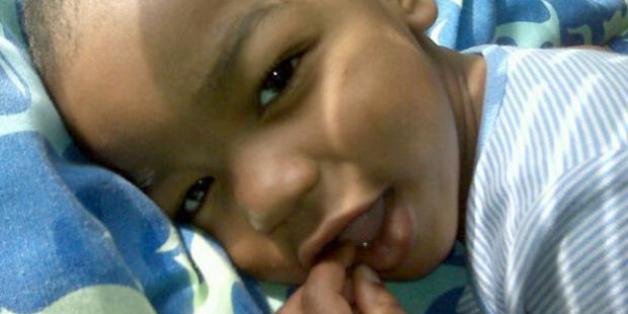 By Nicole Bode, Aidan Gardiner and Murray Weiss
NEW YORK — The 4-year-old boy found unconscious covered in bruises and burns in a Midtown high-rise apartment bathtub was beaten for several days before his death by a caretaker who said she was trying to discipline him while his father was in jail, police sources said.
"I was giving him corporal punishment," Janaie Jones, 37, allegedly admitted to police while being questioned about the death of Myles Dobson. "I was trying to control him."
Dobson was covered in cigarette burn marks all over his body and had lacerations on his arms, legs and genitals when he was found inside Jones' apartment at The Ritz Plaza at 235 West 48th St. just before 11 a.m. on Wednesday.
NYPD Commissioner Bill Bratton described the child's wounds as "horrific" at a press conference on Thursday.
"The briefing I had this morning provided, in addition to some very horrific pictures, some detail based on the investigation of what that young boy had been forced to deal with for several days. I won't go into more specifics than that," Bratton said at a police promotion ceremony in Queens, adding the child endured "horrific injuries over a period of days."
"This is tragic," he said.
Jones — who went by the stage name Kryzie King — told police Wednesday that she left Dobson alone in the bathroom and heard a "thud," police said. When she went inside, she claimed she saw the boy lying unconscious in a bathtub, police said.
Dobson was taken to Roosevelt Hospital where he was pronounced dead, police said.
But, under questioning at the Midtown North Precinct stationhouse, Jones admitted that she had carried out a series of increasingly-brutal abuses in an effort to control the boy's behavior.
She said she beat him with belts and hangers, and burned him, starting on Dec. 28 2013. She also locked him inside the bathroom alone for long periods of time, police sources said.
"This is as bad as it gets. She tortured him over a period of days," a source said.
Jones took in the boy last month when his father, Okee Wade, 37, was arrested on a warrant for skipping a court appearance in New Jersey on fraud charges.
Sources said Jones admitted that she rarely took the little boy out of the house and beat him when he asked to go to McDonald's. She was being questioned by police at the Midtown North Precinct stationhouse overnight Wednesday into Thursday, and was expected to be charged, police sources said.
The Administration for Childrens Services said Wednesday that it was investigating the case. On Thursday, ACS officials referred calls to the NYPD.
Reporting was Contributed by Gustavo Solis, Katie Honan, Trevor Kapp, Ben Fractenberg, Janon Fisher and James Fanelli