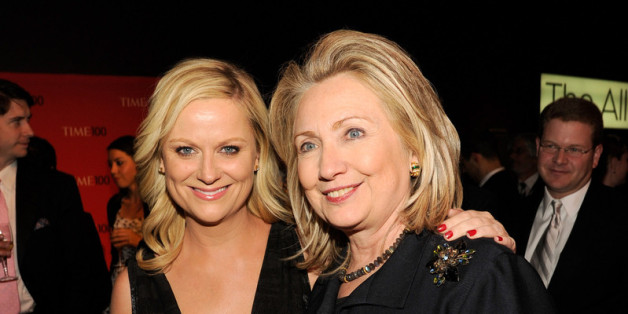 Will Leslie Knope finally meet her idol Hillary Clinton? Well, if "Parks and Recreation" co-creator and showrunner Mike Schur has anything to say about she will.
In an interview celebrating the show's 100th episode, Schur tells The Hollywood Reporter what's in store for the Pawnee Parks Department. Schur reveals some interesting tidbits about the series, like what it was like writing the 100th episode with series star Amy Poehler and thoughts on a spinoff. But it's his idea that the final episode of "Parks" could have some political junkies jumping with joy.
Schur described the desired ending to The Hollywood Reporter: "I always imagined the perfect ending to the series -- and I hope it's not for a while -- would be a casual piece of B-roll where Leslie is walking through a building in Washington, D.C., and passes Hillary Clinton, and Hillary Clinton says, 'Leslie.' Leslie says, 'Secretary Clinton,' and keeps walking."
"Parks" has already scored appearances from major political figures like John McCain and Joe Biden, so could a cameo by Clinton really be all that far-fetched?
Only time will tell, but we couldn't think of a better way to send off the beloved series than with Leslie rubbing elbows with her political idol.
The 100th episode of "Parks and Recreation" airs Jan. 9 at 8:30 p.m. EST.
BEFORE YOU GO
PHOTO GALLERY
'Parks and Recreation'