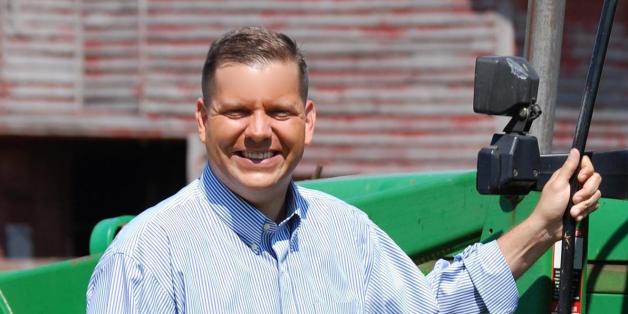 Virginia lawmakers sure are obsessed with oral sex!
Just months after the Supreme Court declined Attorney General Ken Cuccinelli's attempts to reinstate Virginia's anti-sodomy law, which had been struck down as unconstitutional, the legislature is out to regulate Old Dominion bedrooms once again.
Only this time, the state is limiting its reach -- to teenagers. (Also, to adults who have certain kinds of sex in public -- presumably outside of actual bedrooms -- and those who hang out with prostitutes, either in or out of the house.)
Recall, Virginia's bizarre "crimes against nature" law made it a felony for any person to carnally know "any male or female person by the anus or by or with the mouth;" anyone who "voluntarily submits" to that sort of activity also would be a felon.
The United States Court of Appeals for the 4th Circuit found in March that this law was a violation of the 14th Amendment, which guarantees the rights of due process and equal protection.
According to an "impact statement" accompanying this new bill, limiting the proscriptions to non-adults is an attempt to get around the due process problems.
Here's the official summary of the SB 14, introduced by Republican Sen. Thomas Garrett, who ran for office as a "Cuccinelli conservative" and vowed to go farther to the right than any other candidate:
Crimes against nature. Clarifies that engaging in consensual sodomy is not a crime if all persons participating are adults, are not in a public place, and are not committing, attempting to commit, conspiring to commit, aiding, or abetting any act in furtherance of prostitution. The bill states that an emergency exists and it is in force from its passage.
The full text of the bill makes clear that the "crimes against nature" statute that makes consensual sodomy a felony is reinstated, except against adults who are enjoying themselves in private:
A. If any Any person who (i) carnally knows in any manner any brute animal, or (ii) carnally knows any male or female person by the anus or by or with the mouth, or voluntarily submits to such carnal knowledge, he or she shall be guilty of a Class 6 felony, except as provided in subsection B. The provisions of clause (ii) shall not apply where all persons are consenting adults who are not in a public place and who are not committing, attempting to commit, conspiring to commit, aiding, or abetting any act in furtherance of prostitution.
Think Progress, which reported about the bill on Wednesday, notes that Virginia law allows heterosexual 16-year-olds to marry; they can get hitched even younger if there's a pregnancy.
UCLA law professor Eugene Volokh points out some other sticky inconsistencies:
Well, Virginia law provides that genital sex with a 15-to-17-year-old is a misdemeanor, and sex among 15-to-17-year-olds is perfectly legal. So if two 17-year-olds are choosing whether to have oral sex or genital sex, the law would push them towards the form of sex that is more likely to transmit disease, and more likely to cause unwanted pregnancy. Genius.
Think Progress spoke with other lawyers who were unimpressed with this new bill.
Claire Guthrie Gastañaga, executive director of the American Civil Liberties Union of Virginia, told the publication she believes the bill still discriminates against same-sex couples and as such would be deemed unconstitutional, and that her group would "oppose it, unequivocally, because it leaves in place discriminatory treatment and doesn't address the underlying problem that LGBT people are treated differently than folks that have other kinds of sex."
University of Florida law professor Darren Hutchinson told HuffPost he agrees that the state can't say that teens can't enjoy sodomy while not outlawing other kinds of sex.
"Virginia cannot make distinctions among LGBT teens and heterosexual teens with respect to the criminal law. Unless all forms of teen sexuality are illegal in Virginia, this bill would violate Equal Protection," he said. "The state seems to have invented an 'emergency' to justify immediate application of the law -- but this looks exceedingly deceptive in light of the antigay history of Virginia law and the recent unlawful enforcement of the state sodomy law, which remains on the books 10 years after the Supreme Court protection of a right to engage in sodomy."
But if attorneys can say they don't see a law like this holding up, they can't tell us why a politician sees the need, sincerely urgent or otherwise, for the bill in the first place. For that, we've reached out to Garrett, and will update this article with any response.
Meantime, here are some other causes that have occupied the time and docket of this state senator since he took office in 2012:
Allowing persons convicted of violent crimes to become tow truck drivers;
Making it lawful to hunt and/or kill coyotes on Sundays;
Prohibiting the state from funding abortions for low-income women "in cases in which a physician certifies that he believes that the fetus would be born with a gross and totally incapacitating physical deformity or mental deficiency";
Okay, okay, it's hard to hate this one: Celebrating the life of a Virginia K-9 named Maggie, who solved her first case when she was 9 months old and died in 2011, due to injuries in the line of duty.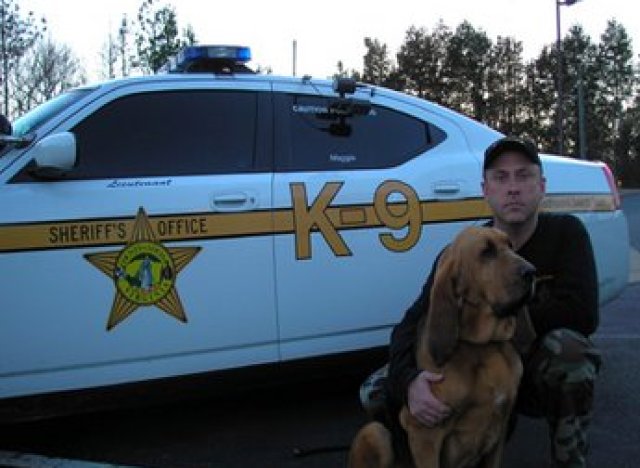 Maggie with her handler, Lt. Patrick Sheridan. Photo via the Louisa County Sheriff's Office.
Senator, please get back to us. We'd really like to know what is going on with this bill. And there's no one else we can ask just yet, since Garrett, according to the Senate website, is thus far SB 14's only patron.
UPDATE: 8:45 p.m. -- Garrett said in an email that the point of his bill is not to prohibit oral sex between teens, but to bring the anti-sodomy law into compliance with the Constitution "while still protecting Virginia children from child predators."
Garrett said, too, that he was concerned that adults who'd been convicted of violating the "crimes against nature" statute, for sexual acts involving children or teens, "may pursue appeal, and quite possibly be released."
This is a puzzling explanation for the new bill. "If he wants to prosecute people who abuse children, why not write a law that would ban abuse of children?" UCLA law professor Eugene Volokh told HuffPost by email. "Virginia law takes the view that ordinary genital sex among 15-to-17-year-olds isn't abuse at all (and indeed isn't a crime), and that adult genital sex with 15-to-17-year-olds is a misdemeanor. How is that consistent with making all oral and anal sex with minors (including such sex among 15-to-17-year-old minors) a felony?"
"Our office has been inundated with extremely unsavory telephone calls and emails," Garrett said, declining to respond to these specific critiques of his bill, though offering some promise that SB 14 has not yet been viewed in its final form. "For the record, I have heard the concerns and have started to draft an amendment to my bill that will deal with the unintended consequences of a bill that is nothing but well-intended."
BEFORE YOU GO
PHOTO GALLERY
Political Tattoos That Really Suck