Over the past month, fighting between militia groups has devastated Central African Republic. In an effort to rein in the violence, the president and prime minister's resignations were announced Friday at a summit in neighboring Chad.
Meanwhile, Central Africans desperately seek safety wherever they can, taking shelter in churches, schools and mosques. More than half of the population of the capital city of Bangui is displaced, and around 60 percent are children, according to the U.N. Refugee Agency.
Streams of the country's displaced have converged on one location: Bangui's main airport, M'Poko. An estimated 100,000 people are living in makeshift shelters next to the airport runway, where fleeing foreigners shuttle out of the country, and humanitarian aid is flown in.
Here are five reasons why people have resorted to living among abandoned airplanes in the war-torn country.
1. MILITIAS ARE WREAKING HAVOC NATIONWIDE
The Seleka rebel coalition, led by (now former) President Michel Djotodia, overthrew 10-year autocrat Francoise Bozize in March 2013, but failed to integrate into a national force. Instead, it splintered into armed groups that terrorized the country with a killing and looting spree. The violence prompted the establishment of rival militias, called anti-balakas.
In December, anti-balaka fighters attacked the capital, backed by loyalists of ousted President Bozize.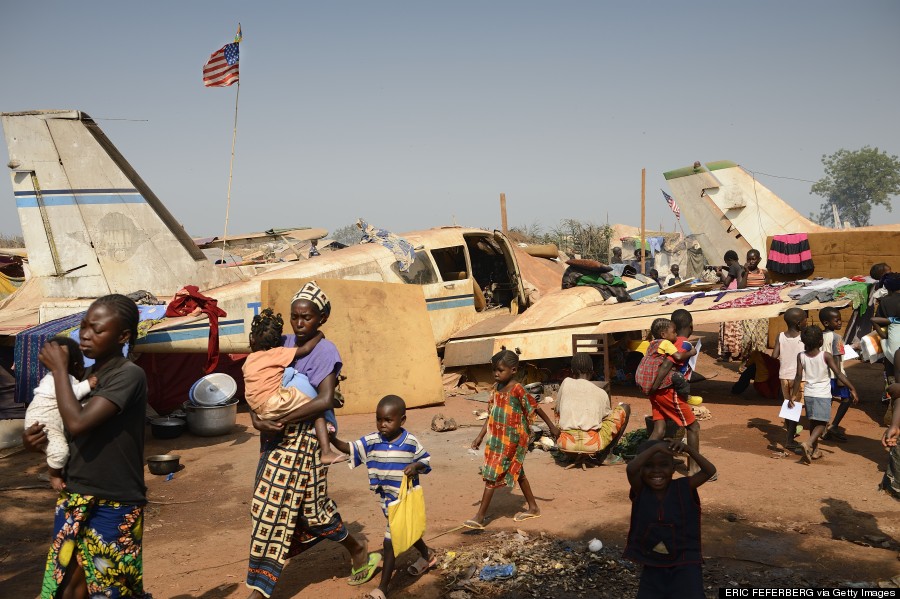 Displaced people go about their daily life in an aero-club area near Mpoko Bangui airport on January 8, 2014. (ERIC FEFERBERG/AFP/Getty Images)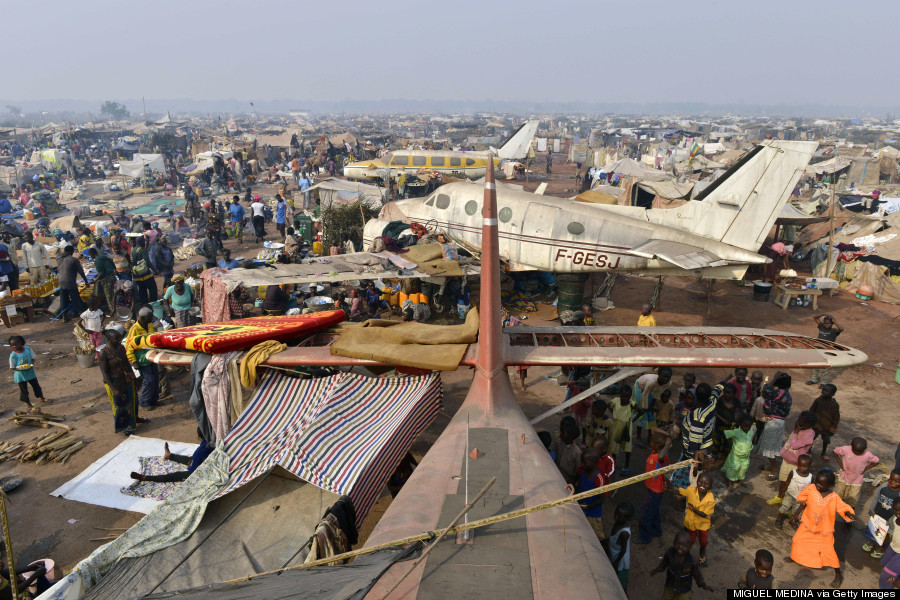 People gather at camp for internally displaced persons set up amid old aircrafts near the airport in Bangui on December 29, 2013. (MIGUEL MEDINA/AFP/Getty Images)
2. RELIGIOUS TENSIONS RISE AS CHRISTIANS AND MUSLIMS KILL EACH OTHER
A political dispute has taken on sectarian lines as the Muslim ex-Seleka fighters battle the Christian anti-balaka militias. The Muslim minority and Christian majority in CAR fear the specter of further revenge attacks.
At the airport camp, Christians have hurled stones passing convoys of foreign Muslims fleeing the country.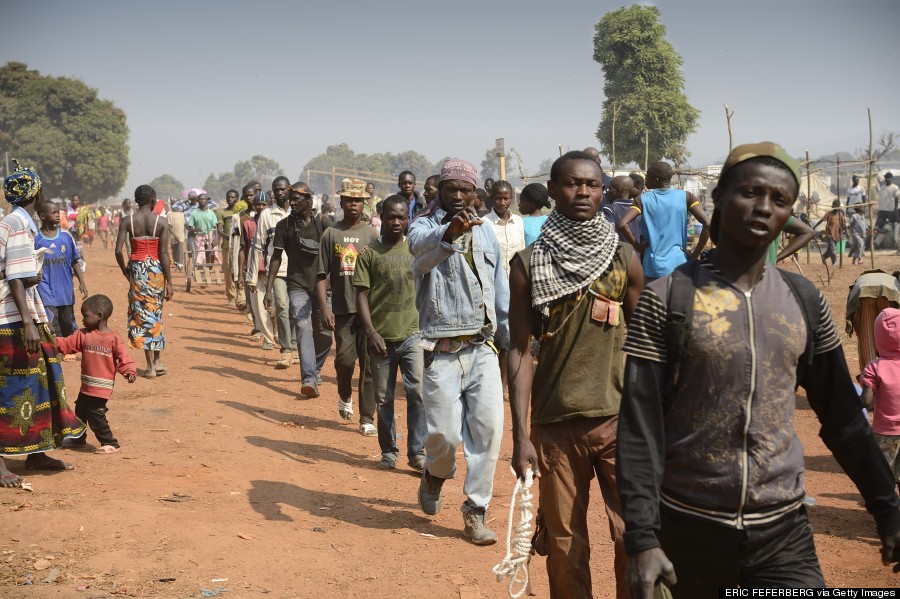 Anti-Balaka combattants patrol near Mpoko Bangui airport on January 8, 2014. (ERIC FEFERBERG/AFP/Getty Images) Chadians waiting for evacuation flights settle in for the night inside an airport hangar in Bangui, Central African Republic, Sunday, Dec. 29, 2013. (AP Photo/Rebecca Blackwell)
3. BEING CLOSE TO FOREIGN TROOPS OFFERS SOME PROTECTION
Former colonial power France sent 1,600 troops in December, to help an African Union force stem the violence. The French military base is located at the M'Poko airport and French forces have helped guard the main gates and secure aid distribution amid escalating violence among camp residents.
A long-term aid worker told Voice of America that the airport was the most overcrowded camp he had ever seen, showing the residents' desperation to stay close to the French army.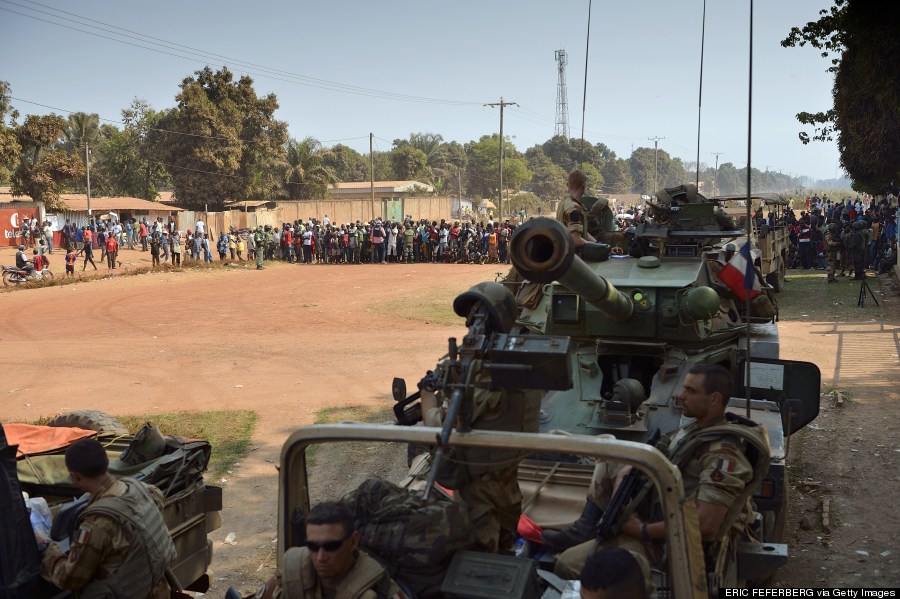 French soldiers hold their position on January 10, 2014 at the entrance of Bangui Mpoko airport as displaced people line up after President Michel Djotodia and his Prime minister Nicolas Tiangaye step down. (ERIC FEFERBERG/AFP/Getty Images) French soldiers stand guard as more than a thousand people living in a makeshift camp for the displaced at Mpoko Airport create a barrier across the runway, shouting for president Michel Djotodia to step down, in Bangui, Central African Republic, Tuesday, Dec. 31, 2013. (AP Photo/Rebecca Blackwell)
4. THERE'S NOWHERE ELSE TO GO
Landlocked Central African Republic is surrounded by countries with their own conflicts, which occasionally spill over. Former President Djotodia stands accused of recruiting militia from Chad and Darfur, and Uganda's feared rebel movement, the Lord's Resistance Army, is also based in CAR. Overlapping conflicts brought a further level of tension to the regional conference held in Chad.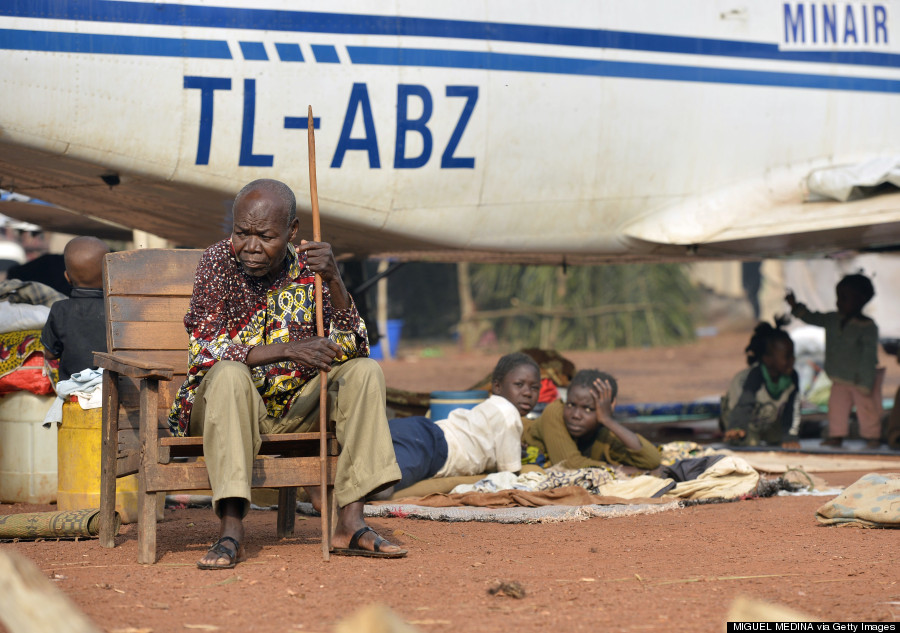 A man sits at a camp for internally displaced persons (IDP) set up amid old aircrafts near the airport in Bangui on December 29, 2013. (MIGUEL MEDINA/AFP/Getty Images)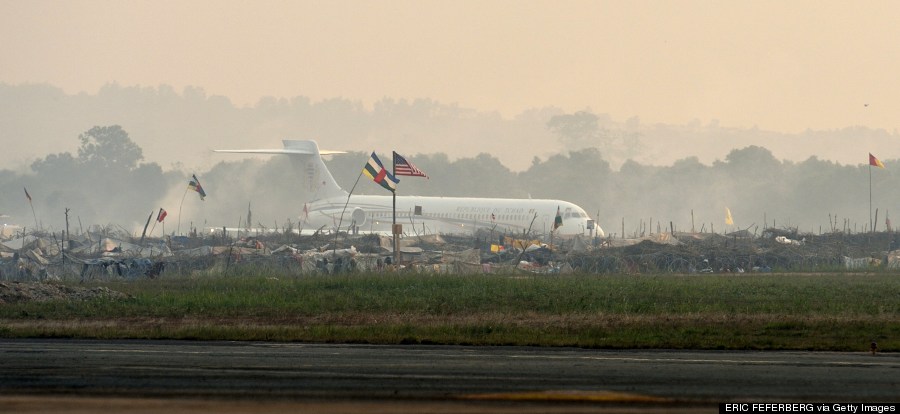 The Chadian President's plane carrying aboard members of the Central African government, the Central African President and Prime Minister drives past a internally displaced persons' camp at the Mpoko Bangui airport, as it prepares to take off for N'Djamena to attend a summit on the Centrafrica unrest, on January 8, 2014. (ERIC FEFERBERG/AFP/Getty Images)
5. THERE ARE NO GOOD ANSWERS
Long-ruled by corrupt autocrats, Central African Republic remains one of poorest countries in Africa despite its abundant natural resources. Those displaced by conflict are often entirely dependent on humanitarian aid from the international community.
Aid workers resumed aid to Bangui airport camp this week after three weeks when workers weren't able to enter the camp because of instability. Displaced people who had gone to fetch water or to tend to recently planted food crops wait to cross back over the runway to the camp where they are living, as a cargo plane lands at Mpoko Airport, in Bangui, Central African Republic, Friday, Jan. 3, 2014. (AP Photo/Rebecca Blackwell)
BEFORE YOU GO