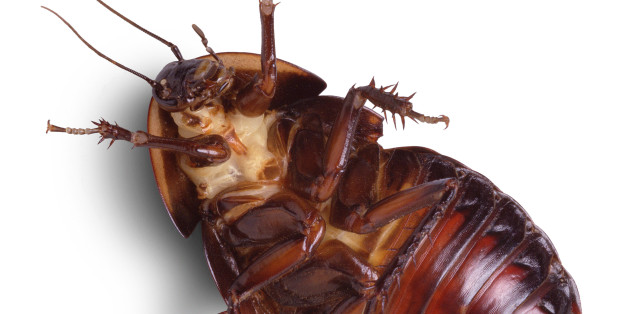 Don't bug out, but I think you have a large cockroach in your ear canal ...
Doctors in Australia came to the aid of a man this week who realized a large cockroach had crawled into his ear. Hendrik Helmer, of Darwin, Australia, told radio station 105.7 ABC Darwin he first noticed something was wrong when he woke up early in the morning with acute pain in his right ear.
Somehow, Helmer sensed a creepy crawler was to blame, although he wasn't yet sure exactly what it was.
"I was hoping it was not a poisonous spider," Helmer told the station. "I was hoping it didn't bite me."
As the pain worsened, Helmer attempted first to suck the creature out with a vacuum cleaner, and then to flush it out with water.
"Whatever was in my ear didn't like it at all," he noted.
Helmer eventually gave up and rushed to the Royal Darwin Hospital, where he was forced to wait 10 extremely painful minutes for the creature to die before a doctor could extract it.
"They said they had never pulled an insect this large out of someone's ear," Helmer told 105.7 ABC Darwin.
While horrifying, Helmer's experience is not unique. Following a case last year where doctors found mites and mite eggs in a 70-year-old Taiwanese man's ear, Dr. Ian Storper, director of otology at the New York Head & Neck Institute at Lenox Hill Hospital in New York, told Fox News that he's seen multiple cases of in-ear cockroaches over the years.
"It's much more common to see a cockroach in the ear," Storper told Fox, claiming to have seen a "few dozen" such cases over his career. Apparently, part of the problem is that the bugs often have little trouble getting into the ear, but then are unable to walk backwards in order to get out.
Strangely, Helmer's experience is actually quite typical of this situation, according to another doctor who spoke with Fox News.
"Patients with cockroaches in their ear always show up at 2 a.m.," Dr. Richard Nelson, vice chair of emergency medicine at Ohio State University Wexner Medical Center, told Fox. "They wake up with sudden onset of ear pain."
Helmer should probably be thankful his midnight invader was only a cockroach. Last August, photos surfaced online of a Chinese patient who went to the hospital complaining of an itchy ear, only to discover that a spider had been living in there for five days.
Shudder.