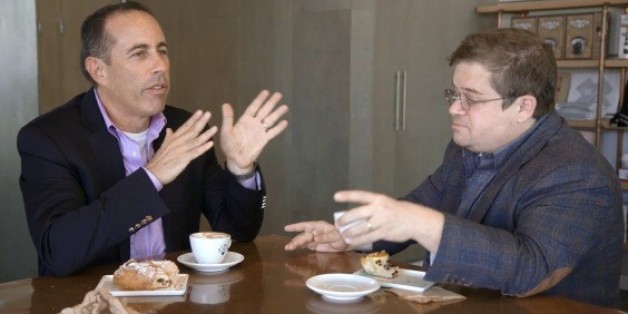 Queens was the new Brooklyn. Then Compton was the new Brooklyn. Now, downtown Los Angeles is the new Brooklyn, complete with de-zoned industrial areas, an historic urban core and hipsters.
Comedian and LA resident Patton Oswalt gave friend Jerry Seinfeld a tour of America's newest emerging hipster stomping grounds during the most recent episode of Seinfeld's web series "Comedians in Cars Getting Coffee."
Uncomfortably seated at Handsome Coffee Roasters (sorry, no sweeteners served here) in rapidly gentrifying downtown LA, Oswalt laid out all the qualities one needs to fit in a downtown LA hipster -- and it's not pretty.
According to Oswalt, downtown LA's hipsters are condescending, moody and just a little bit racist. At the same time, they're impossibly hip and on the vanguard of the latest art and fashion trends, so there are pluses and minuses. We've laid out all of Oswalt's suggestions for how to become a downtown LA hipster (or how to watch out for one), with helpful illustrations for each.
THE DOWNTOWN LA STARTER KIT
According to Patton Oswalt
A French Bulldog
"You need a really overbred, not healthy dog, like a french bulldog or something that's been bred for a certain look but it's also kind of dying. When you walk it around, it has to have a harness because its neck is all messed up."

Be A Diversity-Friendly White Person
"You have to be very white, and you read Salon.com. And you're all about, I'm very, very comfortable with diversity, but secretly, you're terrified of other races."
Wear Subdued Colors
"You're serious, man. Very, very serious."
Comfy Custom Sneakers
"You need very comfortable sneakers, but they have to be the kind that you went to a pop-up store -- when they were making them custom, the designs."
A World War I British Messenger Bag
"You need like a World War I British Messenger Bag, and that's where you put you laptop in."
Operate An Etsy Store, Have A Graffitied Loft
"If you have any bright colors it's either going to be on your Etsy site or it's going to be on the graffiti art that you paid to put on the inside of your work-loft space, to show how eclectic and dangerous you are."
Seinfeld, enlightened after a crash course on downtown LA's newest residents, only has one thing to say to Oswalt:
"You've ruined this whole neighborhood for yourself, you realize that? Now you can't move down here." We have a sneaking suspicion that Oswalt is just fine with that.
BEFORE YOU GO
PHOTO GALLERY
Lessons From Male Style Icons