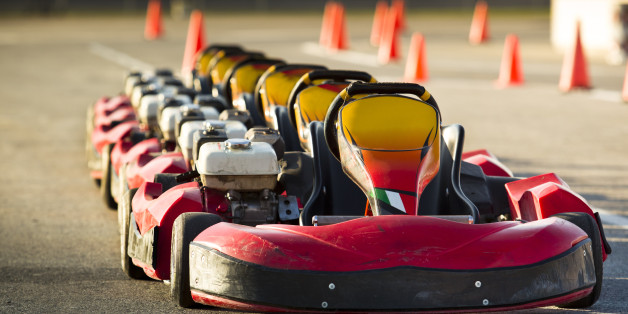 Holly Hanjra suffered a horrifying accident when she went go-kart racing for the first time in a Chicago suburb- but what happened afterwards was even worse for her.
Her long hair was sucked into the engine behind her, prompting employees at Melrose Park Indoor Grand Prix to free her by cutting it, despite her protestations and pleas to dial 911, reports the Chicago Sun Times.
A devout Sikh, Holly had not cut her hair since birth, in keeping with the traditions of her faith. She suffered great emotional pain from the emergency haircut, according to a suit against the facility and manager Santino Scarlato that was filed this week in the Circuit Court of Cook County.

"Melrose caused Holly severe emotional distress because in cutting her hair, they destroyed one of her symbols of to devotion to her religious faith," the suit claims. She is suing for more than $50,000 in damages, as well as legal fees.
The incident occurred on Jan. 6, 2012. Hanjra explained in the suit that though she and her friends watched a safety video prior to racing, neither the video nor any employee warned her about the dangers of racing with long hair. A safety video posted online by Melrose Park Indoor Grand Prix recommends putting a "head sock" over one's hair but doesn't explicitly warn against long hair.
After the incident, Hanjra claims that members of her party overheard "manager and staff accuse one another of failing to notice that at least three of the Go-Karters had long, exposed hair."
Once the race began, Hanjra's long hair was sucked into the rear engine, violently pulling her head backwards.
"Holly, and members of Holly's party urged the manager, agents of Melrose to call 9-1-1 to properly remove Holly from the Go-Kart in the event that she suffered head and/or neck injuries," reports Courthouse News Service. "Members of Holly's party, most of whom were members of the Sikh faith, repeatedly insisted that Holly's hair not be cut due to its religious significance until the proper authorities were called," but racetrack manager Scarlato allegedly "refused to call police or paramedics."
The suit also claims that the upsetting haircut was unnecessary, as the hair was easily removed from the engine after Melrose staff members cut Hanjra free. The party was then kicked off the premises of the racing facility.
Hanjra seeks damages for assault and battery, emotional distress, willful and wanton conduct, negligent misconduct, negligent hiring, negligent retention, and negligent supervision, reports Courthouse News Service.
BEFORE YOU GO
PHOTO GALLERY
Sikhs Host 'Turban Day' in New York City