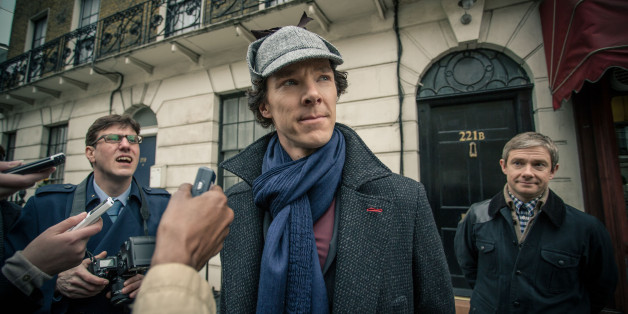 "Sherlock" fans have been freaking out just a smidge since the Season 3 premiere was announced. But according to show co-creator Steven Moffat, a movie spinoff will only happen if there is a "pressing narrative reason."
At a BAFTA screening of the Season 3 finale, "His Last Vow," he said,"How does it make it better to go to the cinema? Everyone knows that cinema and television -- in terms of production quality, in terms of everything really -- are getting closer together, so how would we make it better if we put it on the big-screen?"
Instead, he suggested that the "Doctor Who" 50th anniversary special, "The Day Of The Doctor," had the right idea in its release strategy. The special program was released in limited movie theaters specifically noted as a show that was made for television. "That's a TV program -- number two at the American box office for the weekend it came out, with limited distribution. That's television handing cinema its own arse!" said Moffat.
But, according to Radio Times, Moffat and co-creator Mark Gattis already have Seasons 4 and 5 plotted out. "Rather excitingly, Mark and I, for no particular reason, we just got out of the rain and sat at the top of the ['Sherlock'] production bus … and we just started plotting out what we could do in the future," Moffat said at the same BAFTA screening. "And we plotted out the whole of series four and five ... The ideas we had that day, I thought were the best we've ever had."
That's a crushing blow for those hoping to see a "Sherlock" movie anytime soon.
"Sherlock" will air on PBS Masterpiece, Jan. 19. at 10 p.m.

BEFORE YOU GO
PHOTO GALLERY
'Sherlock' Season 3