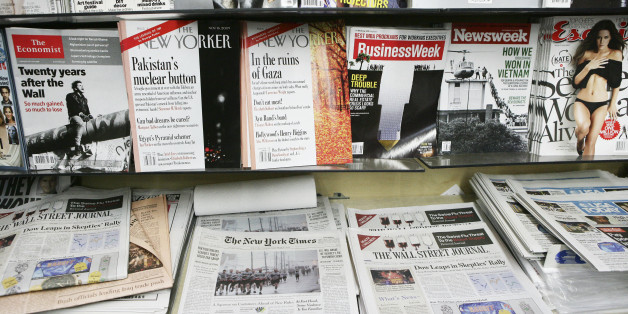 One could argue that the print newspaper business is slowly dying, but a new study suggests that it is still very much alive on social media.
Research by Searchmetrics on the number of tweets per week mentioning content from the top 10 U.S. newspapers found that The Washington Post, The New York Times and USA Today were the top three most popular, respectively, with The Washington Post getting 275,193 mentions each week.
Here are the top 10:
1. Washington Post: 275,193 tweets/week
2. New York Times: 261,422 tweets/week
3. USA Today: 149,960 tweets/week
4. Wall Street Journal: 134,248 tweets/week
5. Los Angeles Times: 118,911 tweets/week
6. New York Daily News: 51,877 tweets/week
7. Chicago Tribune: 17,777 tweets/week
8. New York Post: 13,532 tweets/week
9. Denver Post: 8,887 tweets/week
10. Chicago Sun-Times: 4,982 tweets/week
The study also looked at the top tweeted stories from a newspaper website. USA Today grabbed the top spot in that category with their story about the brain dead Texas gunman possibly linked to two Colorado deaths, which generated 408,816 tweets. The Washington Post's story on Newtown shooter Adam Lanza, which revealed he had more than 1,700 rounds of ammunition in his home, was the second most popular story on Twitter with 361,259 total tweets.
That The Washington Post leads in generated tweets per week is not entirely surprising, considering their mastery of social engagement. Calling Sen. Ted Cruz (R-Texas) unlikable is one thing, but firing back with this response is another achievement entirely: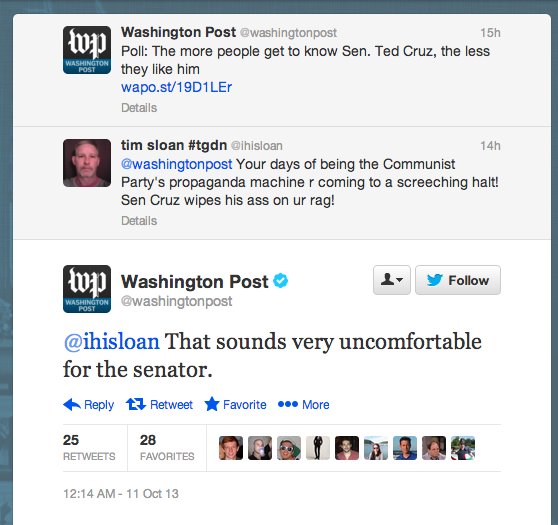 Curious about who the most popular news anchors on Twitter are? Check it out here.
(h/t: Journalism.co.uk)
BEFORE YOU GO
PHOTO GALLERY
25 Biggest U.S. Newspapers In 2012