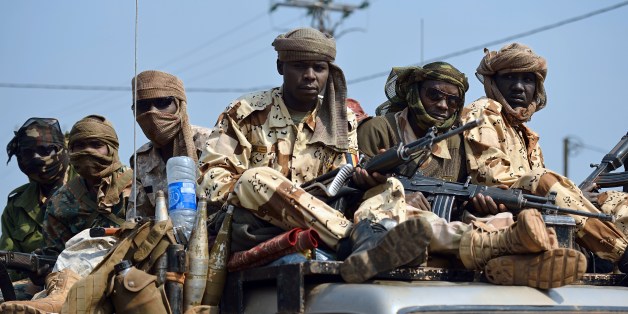 By Paul-Marin Ngoupana
BANGUI, Jan 11 (Reuters) - Gunfire rang out, mosques were attacked and Muslim-owned shops and houses were looted overnight in Central African Republic's capital, despite the country's interim leadership stepping down as part of a drive to restore order.
The resignations may provide a fresh start to peace efforts and the violence had eased by daybreak on Saturday. But, highlighting security fears, the United Nations stepped up flights out for foreigners and African governments have already evacuated nearly 30,000 of their citizens caught up in the violence.
President Michel Djotodia and Prime Minister Nicolas Tiangaye quit on Friday under intense international pressure after they failed to halt months of inter-religious violence that has driven 1 million people, a quarter of the country's population, from their homes.
Thousands of people took to the streets of Bangui, the country's crumbling riverside capital, to celebrate the departure of Djotodia, who was swept to power by mainly Muslim rebels, known as Seleka, last March.
Abuses by Seleka forces had led to the creation of Christian self-defence militia and cycles of killings that evoked memories of Rwanda's genocide 20 years ago.
African and French peacekeepers reported overnight clashes between Seleka fighters and the Christian militia in Bangui.
"But I can confirm that a good part of the shooting was warning shots from us to disperse looters who were targeting Muslim homes and shops," an officer in the African peacekeeping mission said, asking not to be named.
The local Red Cross said it had collected three bodies from the streets after violence overnight.
"We don't understand why we keep killing each other, looting and sowing destruction amongst civilians, even after the politicians people wanted out had stepped down," said Ahamat Deliriss, vice president of the Islamic Council.
"Mosques in the Petevo, Yapele and Bimbo neighbourhoods were destroyed. It is a shame," he said.
The streets of Bangui were largely quiet on Saturday.
Former colonial power France, which had sought to stay out of the latest crisis in a country where it has often intervened, dispatched hundreds of soldiers last month to bolster a beleaguered African peacekeeping force as killings spiralled.
Yet violence has continued, killing 1,000 in December. French and Chadian troops were among the victims and international pressure mounted on Djotodia to step aside at an emergency summit hosted by neighbouring Chad this week.
Alexandre-Ferdinand Nguendet, the head of Central African Republic's (CAR) transitional assembly (CNT), is officially in charge of the country until the body can select a new leader to guide CAR to elections, which are due later this year.
Even with 1,600 French and some 4,000 African peacekeepers on the ground, security is precarious.
The International Organisation for Migration on Saturday began airlifting stranded foreigners out of the country, where 60,000 people from neighbouring countries have asked to leave.
Some 27,000 people, mainly from Mali, Senegal, Niger and Chad, have already been evacuated by their governments.
Tensions are running high among those who will remain.
"They (Muslims) killed us, looted and mistreated us. Now it is time for pay back," said Igor Moumini, a resident in the Sica 2 neighbourhood. (Additional reporting by Emmanuel Braun in Bangui and David Lewis in Dakar; Writing by David Lewis; Editing by Louise Ireland)
BEFORE YOU GO
PHOTO GALLERY
Fighting Rocks Central African Republic