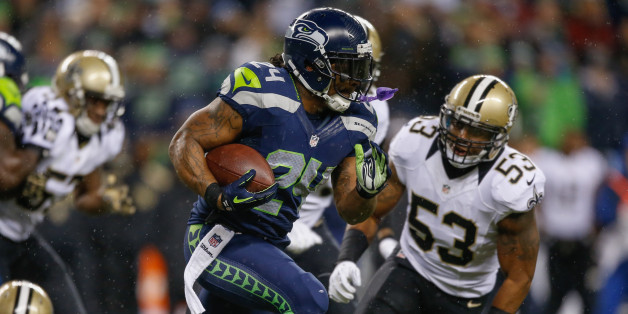 Saints vs. Seahawks
TIME: 4:35 p.m. ET
LOCATION: CenturyLink Field, Seattle
TV: FOX

It's time for the top seeds to join the action.
After a wild Wild Card weekend, the No. 1 and No. 2 seeds in each conference are set to take the field for the Divisional Round of the NFL Playoffs. The second round of the postseason kicks off with a rematch from the regular season when the Seattle Seahawks host the New Orleans Saints. The Seahawks shut down Saints quarterback Drew Brees en route to a 34-7 win back on December 2.
The last time these two teams met in the playoffs came in 2011, when a 7-9 Seattle team won the NFC West and hosted New Orleans. Not only did the Seahawks stun the defending Super Bowl champs, Seahawks running back Marshawn Lynch also helped cause an earthquake.
STAY TUNED FOR LIVE SCORES, STATS, HIGHLIGHTS, PHOTOS
01/11/2014 7:47 PM EST
Wilson finished 9-18 for 103 yards, no INTs, no TDs, and a rating of 67.6. Sacked three times.

— Liz Mathews 710 ESPN (@Liz_Mathews) 4 years ago
01/11/2014 7:46 PM EST
Marques Colston went "What Dat?! on that final play.

— Jeff Duncan (@JeffDuncan_) 4 years ago
01/11/2014 7:46 PM EST
If he goes out of bounds they have another play. That's absurd

— Jay Feely (@jayfeely) 4 years ago
01/11/2014 7:44 PM EST
What was Colston doing?

— Joe Reedy (@joereedy) 5 years ago
01/11/2014 7:44 PM EST
That's a forward pass by Colston who should have went out of bounds.

— Dov Kleiman (@NFL_RealUpdates) 4 years ago
01/11/2014 7:44 PM EST
Penalty
Brees found Colston again on the right sideline and could have gone out of bounds with a few seconds left but instead he tried to lateral it and it was clearly a forward pass. 10-second runoff on the penalty and SEATTLE WINS 23-15!
01/11/2014 7:43 PM EST
Graham
Brees hit Graham with a short pass and then spiked the ball with 13 seconds left.
01/11/2014 7:42 PM EST
Onside Kick
The ball bounced off Tate and went right into Colston's hands. SAINTS HAVE THE BALL!
01/11/2014 7:39 PM EST
TOUCHDOWN SAINTS
Brees found Colston in the end zone for a 9-yard touchdown pass to make it 23-15 Seahawks. They're going to need an onside kick now.
01/11/2014 7:36 PM EST
Earl Thomas got that one in a place that would be inappropriate to mention on an injury report.

— Brian McIntyre (@brian_mcintyre) 5 years ago