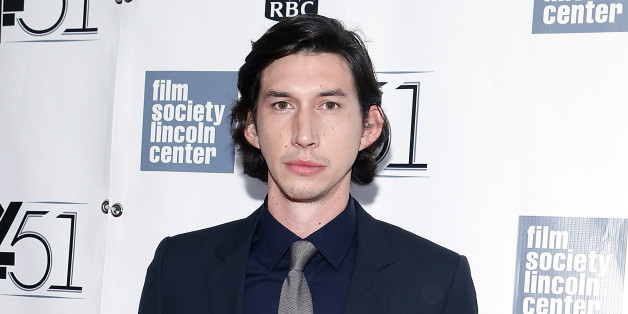 Back in November of last year, it was rumored that "Girls" star Adam Driver was in contention to play Nightwing in the upcoming "Man of Steel" sequel. (Nightwing is better known as Dick Grayson, Batman's estranged former sidekick.)
"No, there's no truth to it," Driver told HuffPost Entertainment a week after the initial story broke. "I don't know whoever put it on there. I don't know how these things get [started] -- I don't know how it first came about."
Now, Driver has another rumor to deal with. According to The Hollywood Reporter's Borys Kit, Driver "is being eyed for a role" in "Star Wars: Episode VII." That tidbit, however, was denied by Latino Review via Twitter:
My source back in Nov told me Adam Driver was a no go for Star Wars. pic.twitter.com/lshbEW7Y0r

— LatinoReview-Kel (@Latinoreview) January 12, 2014
Despite that claim, TheWrap's Jeff Sneider, who first broke the news of Driver's possible involvement in the Batman vs. Superman film, acknowledged that "Star Wars" producers did have some interest in the 30-year-old star.
Couldn't exactly report Driver was being eyed for Star Wars right after reporting the Batman stuff. Would've looked stupid. But THR is right

— Jeff Sneider (@TheInSneider) January 12, 2014
@antbwan23 @StaxIGN @Latinoreview I heard he was being looked at, which is what THR reported, but that his GIRLS schedule is problematic.

— Jeff Sneider (@TheInSneider) January 12, 2014
Sorry, to clarify 'booked' from earlier, I meant that they wanted him. It was his if he could pull it off scheduling-wise. Not sure he can.

— Jeff Sneider (@TheInSneider) January 12, 2014
"I'm definitely trying to figure this all out as I go along, how to craft a career," Driver told The New York Times in an interview last November. "As things get bigger, I have days of depression, sitting in the house and wondering 'What are you doing? Is it even relevant?' [...] I'm not against Hollywood at all. I just want to be involved with good writing and work that has some kind of meaning."
About that writing, at least with regard to "Star Wars: Episode VII": According to THR, director J.J. Abrams and co-writer Lawrence Kasdan have "significantly" changed the initial "Star Wars" script that Michael Arndt wrote in an effort to put more focus on the franchise's original characters, Han Solo, Luke Skywalker and Princess Leia. (It's expected that Harrison Ford, Mark Hamill and Carrie Fisher will all reprise their respective roles from the initial trilogy for "Episode VII," but nothing has been confirmed just yet.)
HuffPost Entertainment contacted representatives for Driver via email. This post will be updated if and when they respond.
For much more on "Star Wars," including which other stars are being discussed for roles, head to THR.
[via THR]
BEFORE YOU GO
PHOTO GALLERY
Celebrity News & Photos