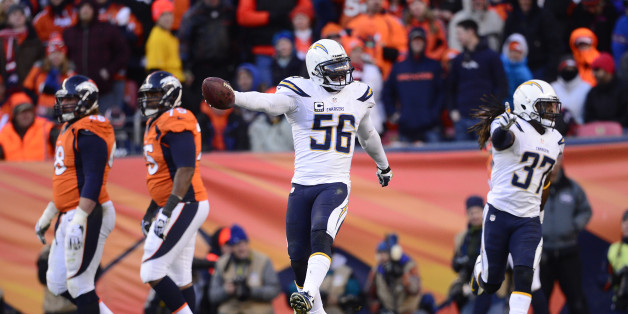 Donald Butler kept the San Diego Chargers within striking distance of the Denver Broncos heading into the locker room at halftime of their all-AFC West divisional-round playoff showdown and he may have gotten a little help from CBS.
In the closing moments of the second quarter, the Broncos had been on the verge of adding to their 14-0 advantage before an incredible, toe-tapping interception by Butler in the end zone ended their drive.
(GIF via @BuzzFeedSports)
With the Broncos already leading by two touchdowns and driving deep into Chargers territory, CBS displayed a graphic related to Peyton Manning's red zone proficiency. As the graphic noted, Manning had not thrown a red zone interception all season long. As if on cue, Butler then ended the streak with a stellar grab on a pass intended for Eric Decker. The pass hit the Broncos' wide receiver in the chest but he could not make the catch. Butler got to the ball after it caromed off Decker's chest and managed to catch it while getting his feet down in bounds before falling out the back of the end zone.