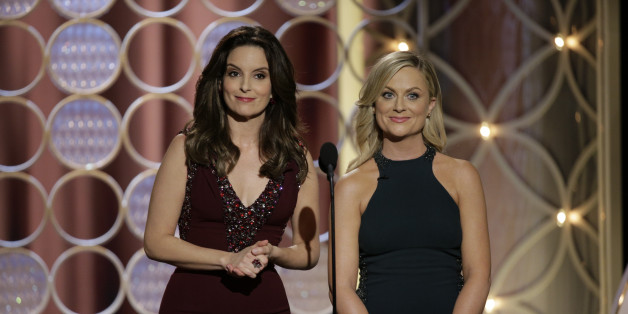 After their hilarious turn hosting the Golden Globes last year, we knew we'd see Tina Fey and Amy Poehler at the helm of Hollywood's biggest party once again. We'd been waiting approximately 364 days for Poehler and Fey to reflect on another year of TV and cinema -- and the two were the most capable, charming, and downright hilarious ringmasters we could have asked for.
The night belonged to the ladies indeed, and we watched gleefully as the "Girls" girls, early winner Jennifer Lawrence, and Emma Stone rubbed elbows with eternal favorites like Meryl Streep, Reese Witherspoon and Julia Roberts. Women everywhere delighted in an irreverent Emma Thompson presenting with stilettos in one hand, martini in the other. We got our cardio for the week when Amy Poehler won, and seeing Emma Stone and Diane Keaton onstage within a minute of each other was almost too much perfection to bear.
Some of our favorite moments from "The Amy and Tina Show" ... er ... the Golden Globes, included:
-- Tina Fey's dig at George Clooney and his proclivity for younger women: "George Clooney would rather float away in space than spend one more minute with a woman his age."
-- Amy Adams' acceptance speech for Best Actress in Motion Picture, Comedy or Musical, which she valiantly extended beyond the musical interruption for a heartfelt dedication to her daughter.
-- Emma Thompson ditching her "blood" red-soled heels. Women everywhere felt so happy for her and her arches.
-- Bing commercials airing throughout the ceremony showcased feats of brave women over the last year, including Gabrielle Giffords, Diana Nyad, Angela Merkel and Deborah Cohan.
-- The real-life Philomena Lee, whose search for a son she was forced to give up decades earlier inspired the Judi Dench-led "Philomena," joined Steve Coogan onstage.
-- The appearance of "Mr. Golden Globe" -- a.k.a Amy Poehler in drag as Tina Fey's "adult son from a previous marriage" Randy -- just so that men didn't feel left out.
-- Jared Leto's win for representing a trans woman in "Dallas Buyers Club."
-- Amy Poehler's win for Best Actress in a Comedy series. She didn't quite cry from happiness. We can't exactly say the same...
-- Tina Fey congratulating Amy Poehler.
-- Diane Keaton rocking her signature "Annie Hall" tie like a pro. La dee da, la dee da.
-- Tina Fey teasing Leonardo DiCaprio about his famously narrow "type" of woman.
In between extended giggle sessions, we gathered some of the best reactions from women on Twitter to the 2014 Golden Globe Awards:
BEFORE YOU GO
PHOTO GALLERY
Best Tweets From Women About The 2014 Golden Globes