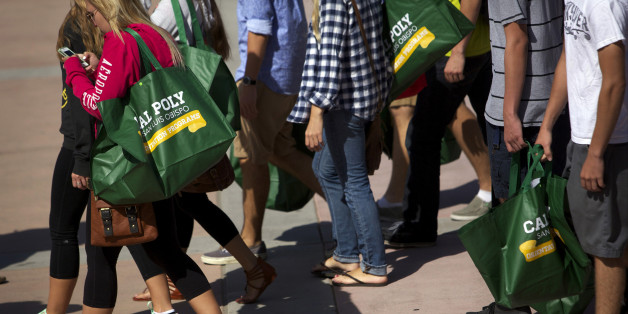 Students at California Polytechnic State University may be forbidden from taking shots or playing drinking games at registered fraternity and sorority parties, if newly proposed school policies are implemented.
The alcohol policies at Cal Poly have been in negotiation by the university and Greek leaders for the past several months. All fraternities and sororities on campus landed on social probation Friday after failing to meet a deadline to come to a conclusion on party registration policies with school administrators. Negotiations will continue between the two sides this week.
Under the proposed policy, as reported by the student publication Mustang News, parties would have to end by midnight and could not last more than four hours. The policy would also limit how much alcohol a person can bring to a party -- one six pack or a bottle of wine -- and prohibit mass advertising of any alcoholic event. Fraternities would be limited to one party a week, among other restrictions.
A university spokesman declined to comment to The Huffington Post on how the policies would be enforced until the plan is completely hammered out between Student Life administrators and student leaders in the Greek system.
The school banned the recruitment of new, first-year students in 2010, two years after the death of Cal Poly freshman Carson Starkey due to alcohol poisoning during a fraternity ritual. The university agreed to relax that provision in summer 2013 following lobbying from local and national fraternity groups, and in exchange, the Greeks agreed to register off-campus parties and implement more educational programs for their members.
The California State University system, of which Cal Poly is a member, also implemented a binge drinking awareness program in response to Starkey's death.
Read the draft as of late last week of the proposed alcohol party policies at Cal Poly in the document below:
Greek Life Party Reg Policy and Guidelines by Sean McMinn
CLARIFICATION: Language in this article has been adjusted to clarify that Carson Starkey died in 2008 and Cal Poly banned recruitment of freshmen by Greeks in 2010.