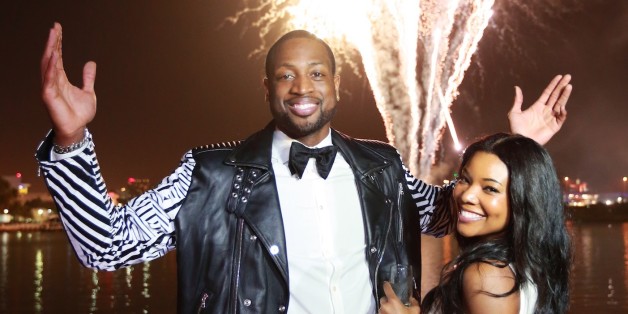 We're not saying they're trying to outdo one another, but a few Heat players (and their sponsors) have been throwing themselves increasingly elaborate birthday parties for a few years now.
After seeing what Dwyane did for his 32nd birthday over the weekend, we're honestly not sure this won't end with Chris Bosh gold-plating himself and setting Miami on fire: not only did Dwyane Wade spend Saturday night celebrating his big day aboard a giant yacht wrapped in his signature "Way of Wade" motif by shoe sponsor Li Ning, but Wade's suit was matched to the yacht.
Yep, both the chartered Venetian Lady and Wade himself were covered in a graphic black and white pattern, fusing man and boat in a jaw-dropping reminder that our birthday parties will never, ever reach this level.
PHOTO GALLERY
Dwyane Wade's Yacht Birthday Party
"TeamWade and @liningusa know how to make a guy feel special," the newly-engaged Heat star wrote on Instagram. "Thanks to all my teammates and EVERY1 who came out... Moments like this I'll never forget. 32yrs on this earth here I came (sic)."
Photos from the night show the rest of the Miami Heat were aboard the ship, along with team owner Micky Arison and president Pat Riley. Then there was Wade's fiancee, actress Gabrielle Union, who stayed the course next to Wade in a white body con dress and gave her man a kiss as fireworks exploded overhead.
And here we thought Wade's 30th birthday, during which he received a 2012 McLaren MP4-12C and Kelly Rowland sang "Happy Birthday," couldn't be topped. Nor did we expect anyone to go bigger than Chris Bosh's last bash, where guests enjoyed a live camel and a cake in the shape of an elephant ridden by a tiny Chris Bosh.
Your move, LeBron. Your move.