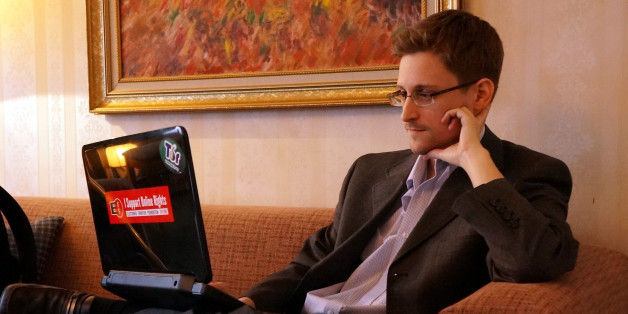 Mining conspiracy-theory-peddling websites based in the United States, Iran's semi-official Fars news agency published a series of bizarre claims regarding Edward Snowden's NSA leaks on Sunday.
A first report published by the news agency over the weekend claimed that documents analyzed by the Russian intelligence services "prove" that U.S. policy is driven by an "alien/extraterrestrial intelligence agenda." The NSA's electronic surveillance is designed to cover up the alien conspiracy, the report continues, while the extraterrestrials plan for total world domination.
A few hours later Fars published a new story on aliens and the NSA, but this time the aliens are the victims. According to this second Fars report, Edward Snowden is unconsciously transmitting subliminal messages about a "false flag" plot to weaponize space. The report adds that the PRISM surveillance system collects UFO contact data, with the goal of creating a hoax alien invasion to justify space wars and ultimately, domination of the entire solar system.
Yes, that is one heck of morning for the alien news desk at Fars.
Thankfully, Fars' source material may help us all sleep a little easier. The first story was copied word-for-word from a conspiracy-theorist website called whatdoesitmean.com. The site is registered in the U.S. and describes itself as the site of The Order of Sorcha Faal, an organization supposedly established in Ireland in 588 BCE by the oldest daughter of the King Zedekiah.
The second Fars report is copied from a 6-month-old blog on Examiner.com, another U.S.-based site well-known for outlandish stories.
Fars is known for reproducing some of the wildest stories on the internet and presenting them as bylined reportage. Some of them are funny, like the story of an Iranian scientist who invented a laptop-sized time machine (Fars later removed this story). Others are more ominous, such as the report about a nun who claims that Syrian rebels are selling vials of Christian blood to Saudi clients which was reproduced from a U.S. website best-known for its skepticism of Obama's citizenship.
This editorial policy has come back to bite Fars in the past. In 2012, the news agency faced widespread ridicule for presenting as fact a story from satirical website The Onion that most rural white Americans prefer Iranian President Mahmoud Ahmadinejad to President Obama.
BEFORE YOU GO
PHOTO GALLERY
World Leaders React To NSA Spying