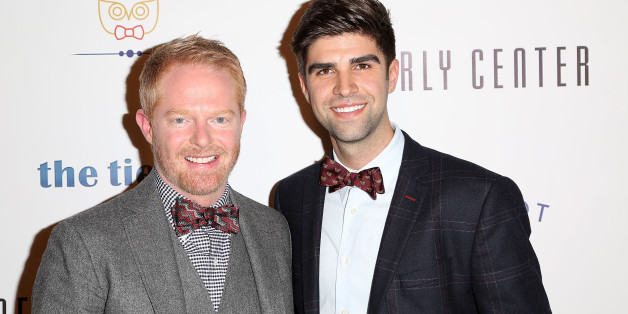 "Modern Family" star Jesse Tyler Ferguson announced plans to donate $10,000 of his own money toward the battle for same-sex marriage rights in Australia this week.
The actor made the announcement through his marriage equality organization Tie the Knot's website. In addition, the move coincides with a special episode of "Modern Family" that will reportedly be taped in Down Under. A portion of the announcement reads:
Like many marriage equality advocates we were saddened to hear that Australia's High Court recently overturned the law that legalized same sex marriage in their great country. A marriage equality bill had JUST passed the parliament in October, so our hearts went out to those people who were suddenly stripped of those rights. Couples who had wed in that short window had to face the reality that their marriages were now annulled. Having been through a similar situation with Proposition 8 here in California, we could really empathize with the frustration and sadness of those who supported and fought for marriage equality.
Saying he and new husband Justin Mikita would be "devastated" to longer be recognized as a married couple, Ferguson added:
Tie The Knot has always focused its efforts on marriage equality in the United States, but there is no doubt in my mind that this is a great opportunity to bring attention to the journey toward marriage equality that Australia is currently embarking on. We have great faith in their strength and perseverance…. so much so I am personally pledging $10,000 toward the marriage equality efforts in Australia
The full message can be read here.
The fight for same-sex marriage in Australia has been tumultuous over the past several years, with the country's High Court overturning new same-sex marriage laws in early December. The move effectively invalidated the nuptials of same-sex couples that had been performed during a five-day period of legality in Australia.
Ferguson and Mikita tied the knot in New York last summer.
(h/t Towleroad)
BEFORE YOU GO
PHOTO GALLERY
Gay Marriage Around The World