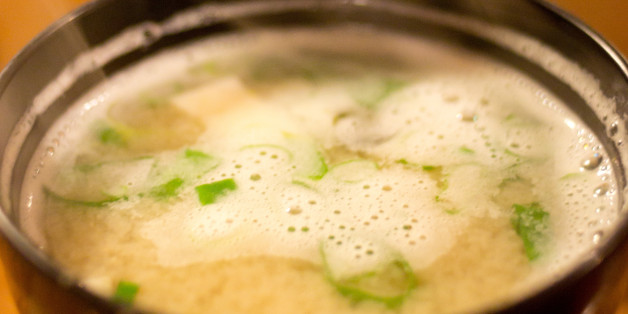 Miso soup-lovers rejoice: Everybody's favorite Japanese soup just got really easy to make. Marukome, Japan's largest miso company, has just introduced an instant soup machine that turns out cups of soup like a Nespresso machine turns out shots of espresso.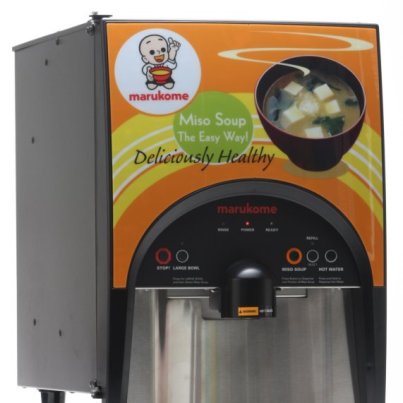 The machine, called "One Shot," removes the hassle of boiling water and opening packets of miso powder to make soup. With the touch of a button, users can make a steaming cup of soup in record time.
Marukome wants to make the cooking process so minimal that preparing a cup of miso soup is as easy as making a cup of coffee, company spokesperson Shogo Koike told the Wall Street Journal. "The Japanese have a latent need to eat miso soup, but it needs to be there to consume. If it's in front of them, they will eat it," Mr. Koike said.
Geared toward offices and small restaurants, the One Shot can churn out 75 bowls of miso soup at a time. Users can customize their soup by strength and with various extras like freeze-dried vegetables, seafood, tofu, seaweed and green onion.
Whether or not miso soup will become the new cup of joe, but with the world's love-hate relationship with coffee, anything could happen.
[h/t Rocket News]
Update 1/16/14: A representative from Marukome clarified that the miso soup machine would be available in the United States for $1,699.
Want to read more from HuffPost Taste? Follow us on Twitter, Facebook, Pinterest and Tumblr.
BEFORE YOU GO
PHOTO GALLERY
10 Essential Japanese Recipes To Make At Home