A popular Chicago butcher shop and restaurant had an unexpected response to an anti-meat billboard being installed directly across the street from its West Loop location.
In a Facebook post on Monday, Publican Quality Meats shared a photo of a new billboard put up by People for the Ethical Treatment of Animals across from their shop. The sign features a photo of a suckling pig and reads, "You can live without those ribs. I can't. Try vegan."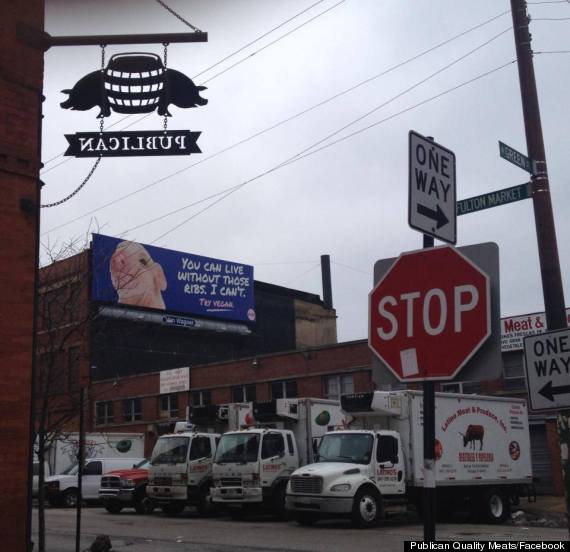 The shop proceeded to offer a lengthy response to the billboard, which they wrote was an essay coincidentally in the works prior to it being erected last Friday.
"We choose to eat meat but acknowledge that death as respectfully as possible," the post reads. "We deal with farms and purveyors where animals are free range, uncaged, fed natural diets, are given no antibiotics or steroids and are slaughtered as humanely and painlessly as possible. But they ARE slaughtered. There is a death. … This is why we do not waste a molecule of these beautiful animals."
The post proceeds to urge the shop's supporters to not "mock or belittle PETA or their mission."
A PETA spokesman told the Chicago Sun-Times that while the billboard is located across the street from the Publican, it is not targeted specifically at their business.
"We're going after the meatpacking district and not individual restaurants, although we've had campaigns against McDonalds, KFC and Wendy's," Liam Cronin of PETA told the Sun-Times.
Still, in an interview with DNAinfo Chicago, Cosmo Goss, the Publican's head butcher and executive sous chef, called the billboard's placement an "insult."
"I believe in what we do," Goss told DNAinfo. "We use meat that's amazing and animals that live amazing lives."
BEFORE YOU GO
PHOTO GALLERY
What's Your Vegetarian/Vegan Pet Peeve?