This precious little boy loves robots so much that, at only 7 years old, he's already written and illustrated a tome on the subject.
Robot enthusiast Gabriel LaFrance Fergesen got the chance to show his work to real-life roboticist Alex Reben, who also answered Gabriel's burning questions about artificial intelligence on HuffPost Live.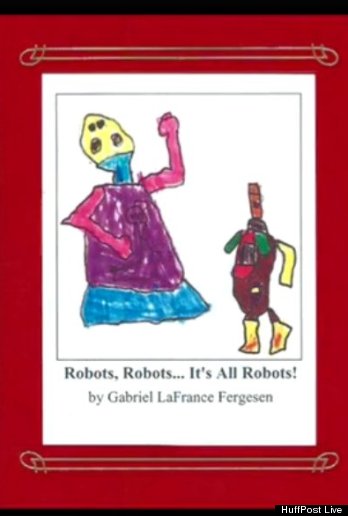 Gabriel's book, called "Robots, Robots... It's All Robots!", examines the ubiquity of machines throughout our daily lives, from Roomba vacuum cleaners to the beloved "Star Wars" character C-3PO. The story is told and the pictures drawn with the wild imagination one would expect from a 7-year-old, and Gabriel is not bashful about comparing his work to the loftiest of literary classics.
"It's got a little 'Pride and Prejudice,'" he said.
Check out the full segment with robot lover Gabriel LaFrance Fergesen and roboticist Alex Reben on HuffPost Live HERE:
This clip is part of HuffPost Live's "Tell Me Why" series, featuring young enthusiasts discussing the subjects they're passionate about -- from horror movies to string theory -- with experts.
BEFORE YOU GO
PHOTO GALLERY
Cute Kid Notes