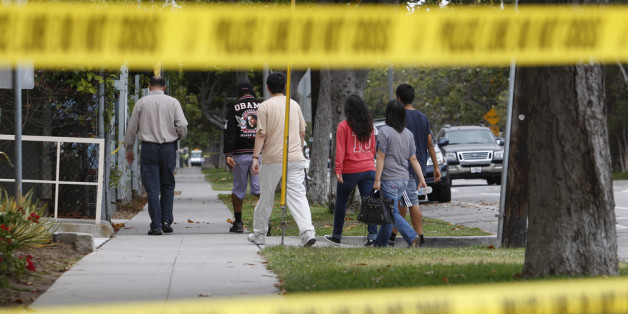 Last year at least 27 shootings occurred on or near college campuses, according to a survey of news reports by The Huffington Post.
Eighteen people were reported to have died and a number of others injured in connection with the shootings.
For this count, HuffPost included any shooting that took place on a college campus or close enough to campus for a school to believe the incident posed a threat to students. Because the survey was based on local news reports, it did not include other possible shootings not covered in the media.
The circumstances of the gunfire vary. Some shootings that appear to have been unrelated to a college or its students still prompted campus-wide warnings or lockdowns due to the incident's proximity to the school.
One of the most prominent of these took place on April 18 at the Massachusetts Institute of Technology campus, where campus police officer Sean Collier was shot and killed while pursuing the two Boston Marathon bombing suspects.
And in June, a shooting rampage at Santa Monica College in California left five people dead, including the gunman.
Other incidents were more directly connected to the colleges, like the one at the Stevens Institute of Business & Arts in St. Louis, where a student allegedly shot an administrator during a financial aid dispute. The alleged shooter, like the one at the University of Maryland who fatally shot himself and his roommate, has a history of mental illness. In a case at Howard University in Washington, D.C., one student was shot and killed in a random robbery attempt.
Morehouse College in Atlanta and Elizabeth City State University in North Carolina both had two shooting incidents.
Only two of the 27 incidents -- at New River Community College and Santa Monica College -- involved an "active shooter," in which a gunman fires in an indiscriminate manner attempting to kill people in a confined area. At MIT in April, the school initially identified an active shooter in its emergency alerts to students, due to the fact that Collier was pursuing the bombing suspects.
Most of the cases did not garner much national media attention.
The issue of campus security -- in particular whether firearms should be allowed on campus -- has continued to be hotly contested throughout the nation, especially since the Virginia Tech massacre in 2007, which remains the deadliest school shooting in the U.S. to date.
Currently, Pennsylvania is wrestling with whether or not to loosen restrictions on guns on campus at state-owned universities. Colorado voters may be able to reinstate a campus firearm ban through a ballot initiative this year, after Democratic lawmakers failed to gain support last year for legislation to make colleges gun-free.
Americans are mostly divided about whether to allow guns on campus, polling from HuffPost/YouGov has shown. However, a survey of students at 15 Midwestern colleges found 4 in 5 would prefer to keep guns off college grounds.
Allowing guns on campus is arguably one of the most unpopular ideas among academics, faculty and university leaders, including in reliably conservative states.
PHOTO GALLERY
Shootings On Or Near College Campuses In 2013