It's never a dull moment with Sofía Vergara and now it's clear why.
Despite leaving the Golden Globes empty handed for the fourth consecutive year, the Colombian star and her guests made the most of the party (and after-party). In true Sofía fashion, the star shared photo updates of the night on Twitter and even a video that revealed where she got her impressive dance moves from.
The "Modern Family" actress may have shown Miley Cyrus how to twerk Colombian-style at last year's Emmy's, but on Sunday night it was the star's mom who was showing off on the dance floor.
Sofía didn't fall far behind at the after-party dazzling everyone as she channeled J. Lo with a svelte metallic gown that showed off her curves and plenty of cleavage.
Nevertheless, it was the actress' elegant black Zac Posen gown that first captivated cameras before the ceremony began.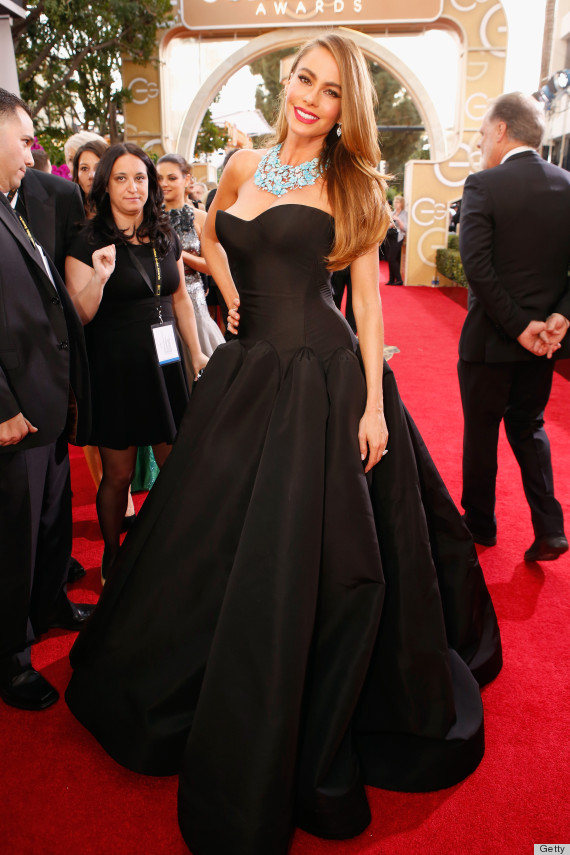 The Barranquillera's dress was not only simple and chic but multi-functional.

"I feel like I'm carrying a tent," Vergara told Ryan Seacrest on the red carpet. "I think I'm smuggling Colombians underneath this dress because they don't let me get in many people here at the Golden Globes, it's not like the Emmy's."
This was the fourth consecutive nomination for Vergara who lost this year's Golden Globe for Supporting Actress in a Series to "Dancing on the Edge" star Jacqueline Bisset -- and it seems Sofía had some difficulty letting go of the golden statuette.
"Its mine!!!!!!!mio!!!!!!!!!!"


The night was not a total loss for the Colombian star who caught a glimpse of her long-time idol comedian and actor Jim Carrey.
"@JimCarrey my idol! Since I was in Colombia!!!"

See the rest of the red carpet dresses:
PHOTO GALLERY
Golden Globes 2014: The WHOLE Red Carpet