At the end of last year, while we were thinking about what to cook for Christmas dinner and settling down in front of the fire with a hot toddy, Taco Bell was making some seriously romantic overtures to promote its new "Live Mas" store. The company, well known for frequently breaking the fourth wall to tell its customers that it loves them via social media, went a step further and actually started sending people jewelry.
In other words, if Taco Bell likes you, they will try to put a ring on it. The stinging emptiness of our own Taco Bell-ringless fingers notwithstanding, we're pretty excited that these actually exist.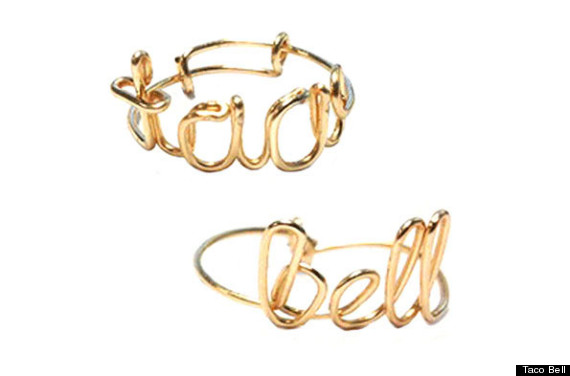 If you want your own declaration of Taco Bell love to wear on your fingers, you can pick up a pair from the "Live Mas" store for $24.99.
[via Incredible Things]
Want to read more from HuffPost Taste? Follow us on Twitter, Facebook, Pinterest and Tumblr.
BEFORE YOU GO
PHOTO GALLERY
The New Doritos Loco Taco Flavor