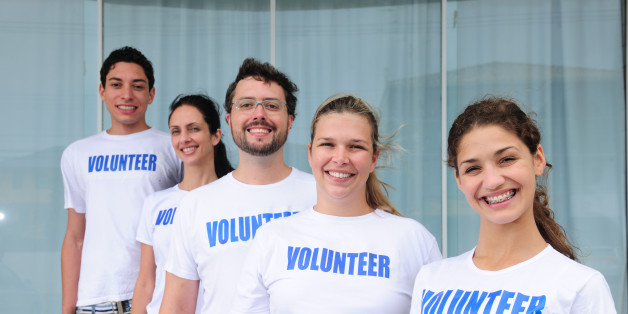 We live in a world where technology can connect us with new opportunities in almost every area of life, from who to date to what to have delivered for lunch. And while these choices can enhance and enrich our lives, people with time, skills and a desire to do good are also looking to technology to help them make a difference in the lives of others.
Volunteering sites are meeting that demand, acting as customized online matchmakers and connecting people with causes in ways that would have been unthinkable a generation ago. Whether you have a lunch break to spare or you want to dedicate your vacation to "voluntourism," numerous websites will help you find a host of options.
These sites that increase access to service opportunities fill an important role since giving back is on the upswing. According to the Corporation for National and Community Service, Americans gave nearly 7.9 billion hours of service in 2012, worth approximately $175 billion.
The more we learn about volunteering and giving, the more we see that it can improve the lives not only of those who are receiving, but those doing the giving.
Giving to others brings about health benefits such as an increased sense of purpose and decreased stress levels, according to UnitedHealth Group. And as a LinkedIn study reveals, volunteering can help your career prospects: 41 percent of hiring professionals value volunteering as much as they value paid work experience.
Whether you're looking for new ways to give or to give your life a boost of purpose and meaning -- or both -- these volunteering sites will help you find what you're looking for.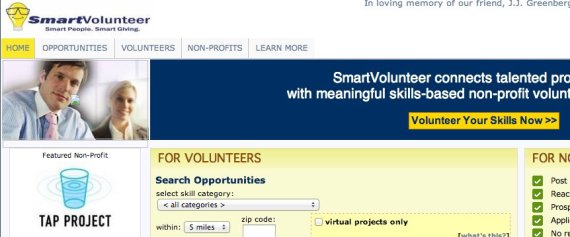 With its motto "Skills-based giving - it's not just for lawyers anymore," SmartVolunteer provides an easy way to donate your skills to nonprofits and other social enterprises looking for pro-bono talent. The site emphasizes opportunities in technology, finance, marketing and human resources. And if you're not able to volunteer on-site, you can search for "virtual" volunteer opportunities, requiring only a computer with an Internet connection. Learn more here.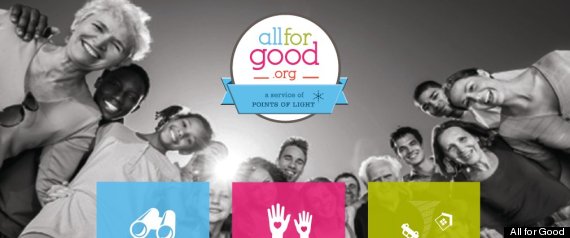 The largest database of volunteer opportunities online, All for Good is the ultimate platform for finding ways to make a difference. Each month, the site hosts 150,000 local volunteer listings in major cities. All for Good also powers United We Serve and is part of Points of Light, the largest volunteer network in the world. Learn more here.
With about 77,000 opportunities to give back, VolunteerMatch connects you to causes and lets you tailor your searches according to what you most love and care about -- children, animals, literacy, helping senior citizens find affordable housing. Or, discover your calling simply by typing in what matters to you in the "I Care About" box. Besides giving opportunities, the site also offers tools that help organizations -- from corporations to colleges -- encourage employees and students to volunteer and invite others to participate. Almost 100,000 nonprofits use VolunteerMatch as a recruiting method. Learn more here.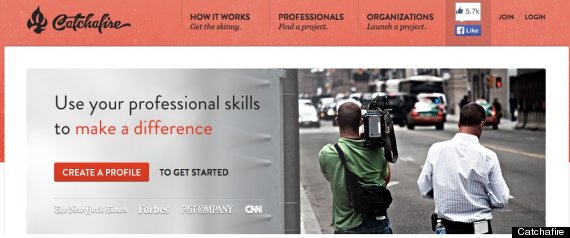 A certified B-corporation, Catchafire connects professionals with nonprofits and social good initiatives for pro bono volunteer work. If you love the arts, pitch in to help a nonprofit tell its story with words, pictures and infographics. If you're a spreadsheet whiz, Catchafire will direct you to an organization in need of help with accounting or everyday administrative tasks. It also helps you track your impact, with a notice that tells you how much money your volunteering saves the organization. Learn more here.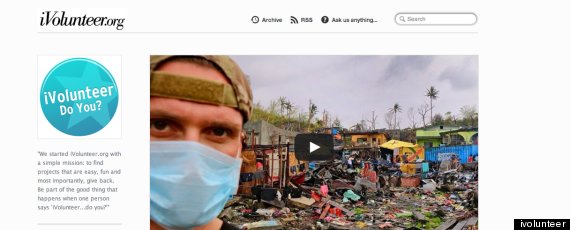 As a hub for stories about natural disasters and other events that have left people in desperate need, iVolunteer connects you with nonprofits and relief services in search of volunteers. The site's mission is rooted in the belief that each act of volunteering can inspire others to join the movement. "Be part of the good thing that happens when one person says 'iVolunteer...do you?'" Learn more here.
DonorsChoose

Founded by a former social studies teacher, DonorsChoose helps you make an impact in classrooms around the country. Public school teachers post their requests -- from laptops, Kindles and cameras to jump ropes, art supplies and storage containers -- and you can choose a project that resonates with you and make a donation. Once a project reaches its goal, DonorsChoose ships the materials to the school -- and then connects you directly with the teacher and students you helped. Learn more here.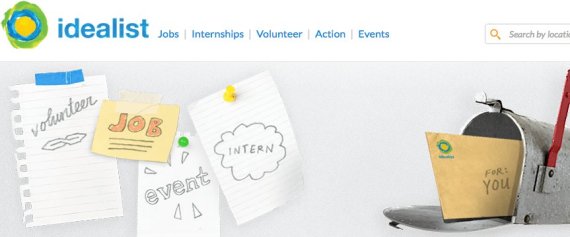 Idealist helps you find job, internship and volunteer opportunities all in one place, based on where you live, your schedule and your areas of interest. The site helps you get involved in your own community in whatever way works for you, updating you on ongoing volunteer opportunities, one-time asks from nonprofits and events in your area. Learn more here.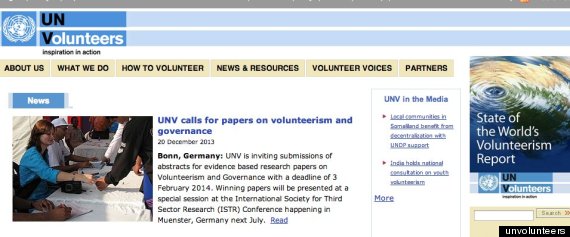 The United Nations offers volunteer opportunities in two focus areas: Development Assistance and Humanitarian and Peacekeeping Operations. If you want to make a difference but aren't able to travel around the world, you can sign up for online-only volunteering projects, from copy editing to drafting proposals for water and sanitation solutions. Learn more here.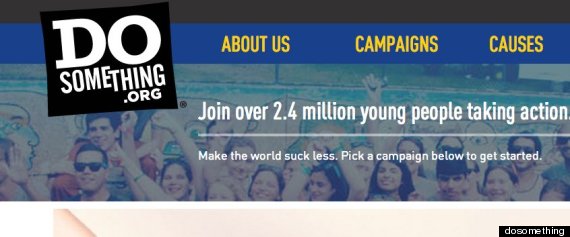 More than 2 million young people have found a cause and started their own volunteer project around it through DoSomething, one of the most popular giving platforms for millennials. Under the motto "Make the world suck less," DoSomething's premise is that just because you're young doesn't mean you can't make a difference, and connects you with the resources you need to launch or join initiatives such as collecting jeans for homeless youth or donating cell phones to domestic abuse survivors. Learn more here.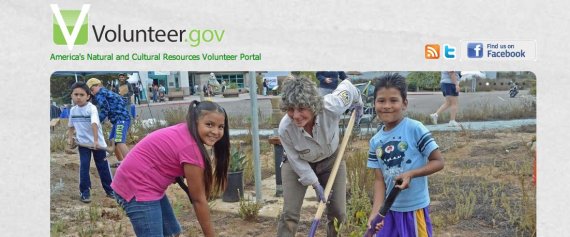 If you're a roll-up-your-sleeves type of person, check out Volunteer.gov, a listing of natural and cultural resource service projects with government agencies including the National Park Service, U.S. Geological Survey, and the Forest Service. Opportunities range from cleaning debris from beaches to helping the Army Corps of Engineers protect bald eagle nests. Learn more here.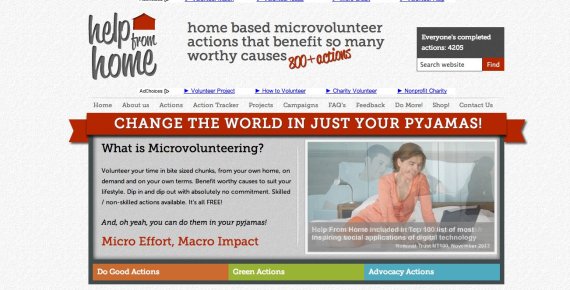 This U.K.-based site is committed to helping you "change the world in just your pyjamas." Offering ways to "microvolunteer," it connects you with ways to give back at a moment's notice and in ways that fit into your schedule. Donate unused air miles with a few clicks during your lunch break, proofread a page of text or knit a blanket for a family in need. Learn more here.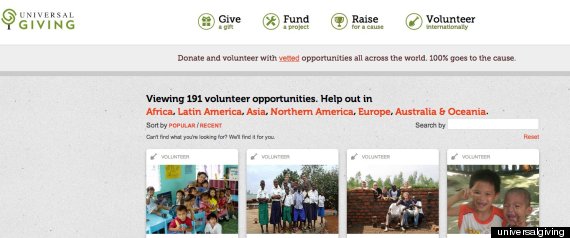 If you want to make a difference and travel at the same time, Universal Giving will connect you with giving opportunities in more than 100 countries. Search by category or location to find projects that Universal Giving has vetted, like helping to build a health clinic in Kenya, volunteering at a Vietnam orphanage or teaching English in Italy. Learn more here.

The site gives young people the tools and know-how to create change in the world. From veterans to the environment to bullying, GenerationOn gives young people concrete concepts and a how-to for ideas, such as recipes to make for families in need or holding a park cleanup. Learn more here.