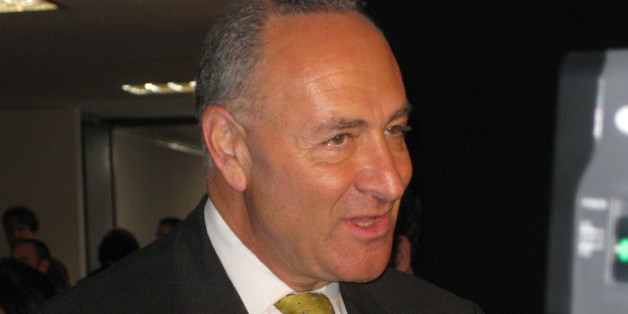 WASHINGTON -- Poor Chuck Schumer. After three decades of living together, the Democratic senator from New York's long-time roomie is leaving Washington, and leaving Schumer without a ready supply of breakfast foods.
For 31 years, Schumer has lived with Rep. George Miller (D-Calif.) in a Capitol Hill rowhouse , which is famous for its high-powered residents and for its slovenliness.
For example, a third resident, Senate Majority Whip Dick Durbin (D-Ill.), was said to be handy at killing the home's rats, in a 2007 New York Times story about the place.
Schumer, for his part, was described by the Times as stubbornly refusing to make his bed, and being "prone to a blatant disregard for conserving a most precious household resource, cereal."
"I love cereal," Mr. Schumer told the paper, while eating what was said to be a "second bowl of granola" out of a box that had just been bought by Miller.
If this sounds like just your sort of living situation, you're in luck. Miller recently announced his retirement at the end of this year, leading to this:
Seeking roommate. 20 terms in the House & unmatched legislative record preferred. Lover of cold cereal a must. http://t.co/oHy8z7wrKR

— Chuck Schumer (@SenSchumer) January 13, 2014
Want to know more about politicians' filthy lives? Check out this video tour that CNN got of the congressional digs that inspired the Amazon show Alpha House:
Miller owns the house. He bought the place for $90,000 in 1977; Schumer moved in in 1982, with Durbin arriving 10 years later. The Washington Post says no one yet knows if Schumer and Durbin will bring someone new to replace Miller, who would become an absentee landlord, or if the lawmakers will be looking for a new place (most likely not) to hang their hats.
It's "not something we've talked about," a Miller spokesperson told the paper.
BEFORE YOU GO
PHOTO GALLERY
D.C.'s Most Expensive Houses