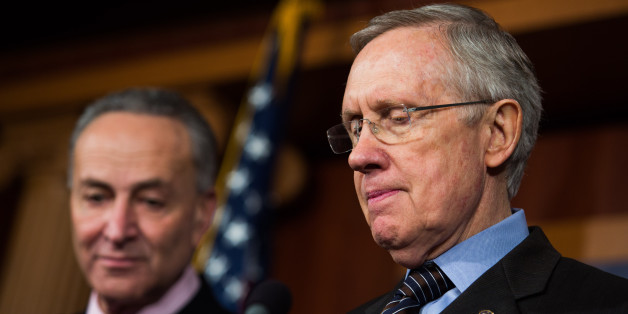 WASHINGTON -- Hospitals are getting angry at being used as a funding source for other priorities, this time to pay for extending emergency unemployment benefits.
Long-term unemployment insurance ran out for more than 1 million Americans on Dec. 28, and Republicans are refusing to renew the aid unless it's paid for by cuts elsewhere. Democrats offered to pay about $17 billion of the cost by extending the sequester's 2-percent cut to Medicare providers into 2024, a move that would primarily hit hospitals.
Sequestration -- which Democrats and Republicans alike have lambasted since they themselves created the across-the-board spending cuts in the 2011 budget deal -- was supposed to end after 2021. But Congress already agreed last month to extend the Medicare cuts into 2023 to pay for some of this year's budget. If Congress manages to pass the current proposed unemployment bill, hospitals would be living under the hated sequester for nearly 13 years.
"America's hospitals strongly oppose a Senate proposal to cut funding for seniors' Medicare to pay for extended unemployment benefits," the American Hospitals Association and several other national hospital groups wrote in a Monday letter to senators. "While we do not oppose the extension of these benefits, we do oppose using Medicare reductions to pay for non-Medicare related spending.
"Medicare has been cut time and time again –- most recently under the budget agreement signed into law just weeks ago," the letter continued. "Medicare is meant to assure seniors access to needed medical care, not serve as a piggybank for other programs. It is bad policy to further extend Medicare sequester cuts that could undermine care for seniors."
The association argued that hospitals are already facing $113 billion in cuts passed in the last three years.
Local hospitals are also pressuring members of their state delegations on the cuts.
In New York, the Hospital Association of New York State released a letter Tuesday that it sent to the state's senators and representatives. New York hospitals are among the largest recipients of federal Medicare payments. The budget deal cuts New York Medicare providers (not counting doctors) by about $540 million in 2022 and 2023. The cut to fund jobless benefits would slice an additional $280 million.
"The repeated willingness on the part of some in Congress to raid Medicare payments to providers for care breaks a fundamental promise made to senior citizens and all patients that the quality care they need from their community hospital and other providers will be there when needed," wrote HANYS President Dennis Whalen. "Deeply troubled by this extension, HANYS' members across the state of New York, including the members of the HANYS Board of Trustees, are adamant that the use of sequester cuts to fund other federal priorities must not become a pattern."
The discontent of the New York group is of particular relevance to the state's senior senator, Chuck Schumer (D), who has sparred with them in the past, and, as a member of the Senate leadership, has a say in crafting legislation.
Schumer's office did not immediately offer a comment on the letter.
It's not clear that Democrats in the Senate can even get their proposal passed, but if they do, it faces stiff opposition in the House, even from Democrats there who think extending sequestration is a terrible idea.
"The premise that the sequester is a policy on which we ought to fund things I think is not a good one, whether it is 2024 or 2014," Democratic Whip Steny Hoyer (D-Md.) said Friday.
Some Democrats have suggested that with the cuts 10 years away, there would be plenty of time to undo them later.
Michael McAuliff covers Congress and politics for The Huffington Post. Talk to him on Facebook.

BEFORE YOU GO
PHOTO GALLERY
What Minimum Wage Haters Won't Say