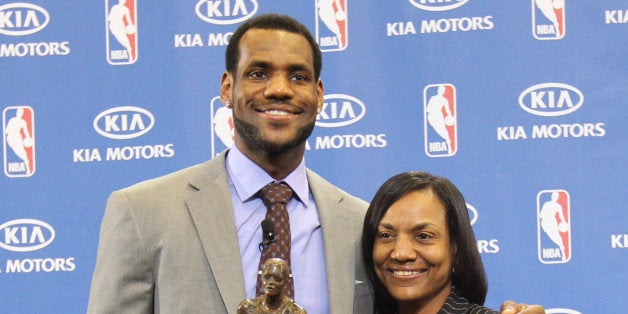 You know what they say: Behind every great man is a great woman. For Miami Heat superstar LeBron James, that woman happens to be his mom.
In a touching essay penned for The Shriver Report, a non-profit media initiative detailing the reality of American women's lives, the 29-year-old writes of the sacrifices his mother, Gloria James, made while raising him as single mom.
"You think LeBron James is a champion? Gloria James is a champion too. She's my champion," the athlete writes in the first-person piece, before detailing the the hardships his mother faced when she had him at 16-years-old.
James writes that he and his mom lived with his grandmother in a "great big house" in Akron, OH. But at age three, his grandmother died and the family lost the house:

We moved around from place to place -- a dozen times in three years. It was scary. It was catch as catch can, scraping to get by. My mom worked anywhere and everywhere, trying to make ends meet. But through all of that, I knew one thing for sure: I had my mother to blanket me and to give me security. She was my mother, my father, my everything. She put me first. I knew that no matter what happened, nothing and nobody was more important to her than I was. I went without a lot of things, but never for one second did I feel unimportant or unloved.

Finally, when I was 9-years-old, my mother made a supreme sacrifice. She decided that while she was figuring out how to get on her feet, I needed some stability in my life. I needed to stay in one place and experience the support and security that she had felt growing up in a big family. So she sent me to live with my pee-wee football team coach, "Big Frankie" Walker, and his family. She later said to me, "It was hard, but I knew it was not about me. It was about you. I had to put you first."

James spent a year with Walker, honing his skills on the court, attending school, and seeing his mom every weekend. Once his mom was able to rent a two-bedroom apartment with the help of a government-assistance program, James moved back in.
Fans of the basketball star know what happens next: In 2003, the Cleveland Cavaliers recruited James out of high school with the first overall pick in the NBA draft. Now playing for the Miami Heat, James is a nine-time NBA All-Star, four-time NBA most valuable player and two-time NBA Finals MVP.
The Miami Heat forward is also a proud dad to kids, LeBron Jr. and Bryce. In his Shriver Report essay, James said everything he knows "about loving and caring" and "being present in [his] children's lives" he picked up from his mother.
This isn't the first time James has voiced his admiration for his mom. In a 2009 interview with "60 Minutes," the athlete credited Gloria James with keeping him off the streets and out of trouble when he was growing up.
"I never walked down that path -- I don't know why. I think the man above and my mother just led me in the right direction," James explained. "[My mom] gets all the credit in the world for helping me become the man who I am today."
BEFORE YOU GO
PHOTO GALLERY
Best 2013 Sports Photos