The "Portraits of Boston" photo project aims to catch a moment in time -- a person's expression, hopes and feelings in an unscripted instant.
When photographer Ivan Velinov snapped a shot of a homeless man on the street back in May, he captured the man's gut-wrenching struggle in that moment, but the story behind the image comes with a lasting lesson.
The picture -- and the accompanying conversation the two shared -- recently surfaced on Imgur. Their talk involves the harsh realities of depression, suicide and alienation, yet also teaches us how the simplest act of compassion can help to ease indescribable pain.
Velinov gave HuffPost permission to repost the whole conversation below. Click over to Portraits of Boston to see the original post, as well as more photos of inspiring Bostonians.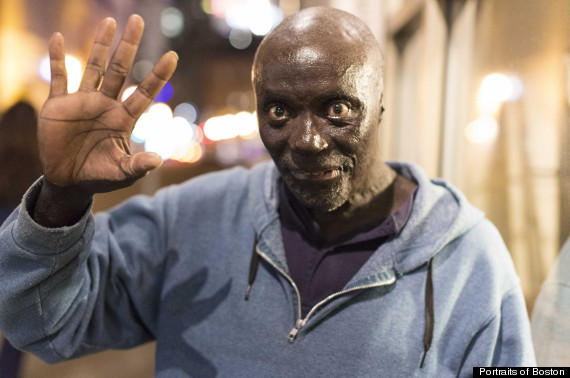 "Hey man, take my picture!"

"I can't do it. It's too dark."

"Yeah, we need some light. Let's go over there."

"Are you homeless?"

"Yes, I am."

"How long have you been homeless?"

"15 years. I've been in Boston 8 months. Before that I was in Washington, Virginia, New York, Philadelphia, Louisiana, Florida…"

"Why didn't you stay in Florida? It's so much warmer."

"I wanted to see my family. But they don't want to see me. They don't understand depression. They treat me like dirt. Homeless people treat me better than my family."

"And what happened 15 years ago? How did you end up on the streets?"

"I tried to burn myself twice. I had 30 surgeries. I was dead two times, but God brought me back. I don't know why."

"And why did you do it?"

"I was depressed. Why you crying?"

"Because you are a beautiful person, and my family is really messed up, and I've been very depressed. I think I can understand you."

"Yes, I am a good person. And when you take people's pictures, don't disrespect them."

"No, man, I won't. I like people. That's why I take their pictures."

"And when you make your portfolio, don't denigrate people. Let the pictures speak for themselves."

"I will. Are you safe on the streets?"

"Yes, I am…And now I have $8 to buy me some food."

"That's all I have. Next time I see you, I will give you more."

"No, man. It ain't all about money. Give me a hug. And next time you see me, give me a hug again. And thanks for taking my picture."
BEFORE YOU GO
PHOTO GALLERY
Starving Artists Project NYC